Hooded Sweatshirt—Wholesale Pricing for Blanks, Finished, Ad Specialty or Custom Manufactured Garments
Sign Up for a Wholesale Account
Garments Manufactured in the USA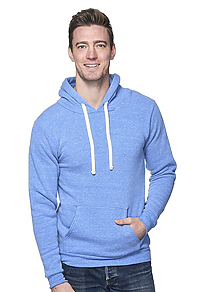 Royal Apparel manufactures hooded sweatshirts (wholesale pricing available) and other apparel in the United States—that is right, we manufacture clothing in the USA! We can offer business clients hooded sweatshirt apparel including blanks, finished retail goods, ad specialty sweatshirts or customized shirts for private labels, clothing lines or for retail sale. We produce many standard sweatshirt styles for retail sale through our online store.
Businesses are welcome to sign up for wholesale pricing for bulk sales, blank sales, sample garment production, custom-finished sweatshirts or for apparel meeting ASI standards. Royal Apparel is an ASI member and we manufacturer ASI wear and apparel and meeting ad specialty standards for silkscreen printing services as well.
Call Royal Apparel Toll-Free, Nationwide: (866) 769-2517
Standard Sizing Options, Quality Fabrics
Choose your apparel or wholesale hooded sweatshirts in men's, women's, teen and youth sizes. We also manufacture garments in toddler sizes (we accommodate most standard sizing). Royal Apparel offers retail customers and our business-to-business clients several fabric options for apparel or a hooded sweatshirt (wholesale garments) line or design. We sell sweatshirts at retail as well. Wholesale customers can choose garments produced using 100% organic cotton, premium knits or our truly innovative fabric made from recycled polyesters and plastics. Our RPET blends and organic cotton apparel are just right for your environmentally conscious customers.
Learn more about Royal Apparel's fabrics and other product details.
Wholesale Garment Finishing Options
Royal Apparel's wholesale customers are always welcome to discuss custom production runs, product designs, sample garment production options and customize apparel manufacturing. We offer customers fast turnarounds on sample garments, and once approved can begin production quickly to get your products to market.
Royal Apparel also offers a range of wholesale options and custom finishing services to meet the needs of business customers needing specific styles, fabrics or finished goods customization. Choose the customization services that your company needs for supplying stores or for you own private clothing lines.
Royal Apparel can assist B2B customers with the services including:
Ad specialty finishing services including printing or silkscreen printing

Blanks (white or monochrome)

Custom sizing for hooded sweatshirt (wholesale) items or other apparel

Dip dyes, fleece for hoodies or winter wearables or sheer burnout styles

Embroidery and sewing services

Standard or custom apparel designs including t-shirts, dress shirts, sweatshirts, tank tops, short sleeves, long sleeves, thermals, V-necks, toddler-wear, and many other styles (

review our online store for garment style examples

)
Choose hooded sweatshirt styles, fleece hoodies or any other styles of apparel that we produce for resale and request custom production runs. Royal Apparel will gladly discuss any customization requests from wholesale business clients.
Call Royal Apparel Toll-Free: (866) 769-2517
Business Fax Line: (631) 922-8438