Fleece Zip Up Hoodies Made in the USA
Stay Comfortable on Cold Days with Hoodies
Be sure to stay comfortable on cold days with fleece zip up hoodies made in the USA are available for retail sale or wholesale direct from a US manufacturer. Our apparel is proudly "made in the USA", and finished in the USA; options include customization, fleece sportswear hoodies, embroidery, silkscreen printed or hoodies finished for ASI or ad specialty wear. Royal apparel provides stock inventory, fleece zip up hoodies for retail and also provides customization services for wholesalers, retail stores, independent stores and clothing lines, chain clothiers and for direct retail.
Call Royal Apparel Toll-Free at (866) 769-2517

Business-to-Business Accounts with Royal Apparel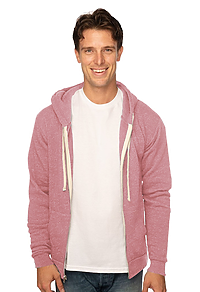 If your company is looking for stock inventory items or custom-made apparel, garments, sportswear, fleece zip up hoodies, pullovers, sweatshirts, long sleeve thermal shirts or other clothing, then sign up for a free wholesale account. Once you have a wholesale account, you can set up ordering for custom apparel and hoodies (we need tech-packs, fabric selection, any ad specialty components, and approval of sample runs before doing a production run). Learn more about custom manufacturing services for wholesalers, retailers and business-to-business (B2B) customers.
Fleece Zip Up Hoodies and Custom Apparel
Royal Apparel provides sizing in a wide range to fit most adults (women and men), teenagers, youth and even toddler sizing. Our fleece zip up hoodies and popular hoody sportswear includes:
Unisex triblend fleece zip up hoodies manufactured using a combination of ring-spun fabric (50%), polyester (37%), cotton (13%) and rayon (7%)

Unisex sizing includes XS (extra small), SM, MD, LG, XL (extra large), 2X, and 3X

New colors and fabrics including triblend vintage grey, triblend onyx and triblend navy denim

Organic full zip up hooded sweatshirts available

Organic hooded pullover sweatshirts available

Raglan fleece shirts (long sleeve) available
Our customization services for business clients and wholesale account holders includes customization of fleece zip up hoodies, hooded pullovers, and basically just about any item in our inventory. You can of course give us the details for the apparel that you would like manufactured.
Some of our customization services include:
Custom sizing

Bulk and stock inventory items

RPET, Raglan and other fabric options

ASI apparel

or ad specialty design and manufacturing

Silkscreen printing
Contact Royal Apparel with all of your requirements for fleece zip up hoodies or other apparel. Smaller orders of fleece zip up hoodies are available for retail customers through our online store.
Call Royal Apparel Toll-Free Nationwide at (866) 769-2517
Business Fax Line: (631) 922-8438