Organic French Terry Hoodie Made from Recycled Materials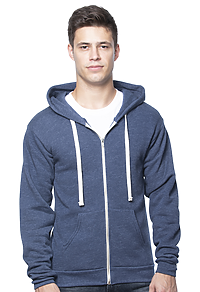 Our French terry hoodie is soft, extremely comfortable and will be your favorite sweatshirt. The yarn in this organic hoodie is comprised of recycled bottles. We use RPET technology to create a soft fiber from otherwise discarded plastics. Royal Apparel aims to preserve the environment while producing quality and stylish clothing options. In addition to our French terry hoodie, check out our other wholesale options.
Our eco-friendly garments include:
Organic Cotton

– Farmed without insecticides, pesticides, & chemical fertilizers.

Bamboo Apparel

– Light, strong, soft to the touch, and requires less dye compared to cotton.

Hemp Apparel

- Hemp is an exceptionally strong, durable, eco-friendly fiber. Hemp is grown organically and doesn't require insecticides or pesticides.
USA Made
We pride ourselves on providing quality jobs that help the economy, local communities and keeps valuable skills living in our workforce. Outsourcing to countries takes away jobs from hardworking Americans.
Peace of Mind
Strict regulations for American manufacturers, protects the environment as well as protects against dangerous workplace conditions, and child labor. Foreign manufacturers cut corners to provide lower cost apparel, at high human rights and environmental costs. We have continued to grow and hire some great people that make up our Royal Apparel team. Our employees and our loyal customers keep the American Dream thriving at Royal Apparel.