Organic Infant Clothing at Wholesale from Royal Apparel
Sign up for a Business (B2B) Wholesale Account
Royal Apparel Manufactures in the USA
Royal Apparel has a wide range of 100% organic cotton apparel for infants, toddlers, youths, teens and adult men and women. We are a domestic designer, manufacturer and wholesaler of a wide range of clothing—we guarantee that our clothing is sweatshop free and all of our clothing is "made in the USA" with pride and dedication to excellence.
Call Royal Apparel Nationwide at: (866) 769-2517
Wide Choice of Organic Infant Apparel Styles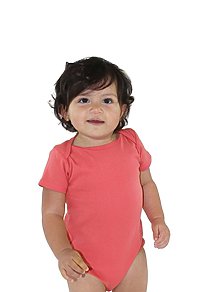 Choose your organic infant clothing from a variety of styles and colors. This comfortable organic infant clothing is sure to keep babies smiling. Organic baby apparel options include:
Organic Infant Bibs (Binding and Velcro Closuree)

Organic Infant Hats

Organic Infant Lapover Tees (T-shirts)

Organic Infant Long-Sleeve (L/S) Crew Thermal Wear

Organic Infant Long-Sleeve (L/S) Lapovers

Organic Infant Long-Sleeve (L/S) One Pieces

Organic Infant One Pieces

Organic Infant Pants

Organic Infant 2 x 1 Rib Tank Tops

Additional toddler styles include fine jersey organic cotton Toddler Short-Sleeve (S/S) Crew Tees (T-Shirts), Organic Toddler Long-Sleeve (L/S) Crew Tees (T-shirts) and Organic Toddler Long-Sleeve (L/S) Thermals

Many other styles of organic clothing for youths, teens, adult women and men
We manufacturer our organic infant clothing styles with 30/1 combed ring spun that is 100% certified organic cotton for most items (some are 20/1) with double hems on any pant leg openings for a better, more durable seam. Each style has several color options as well. Organic infant apparel has a super soft hand feel as well.
Additionally, we offer another environmentally conscious line of fabric, or RPET blends. Recycled polyesters and recycled plastic fibers comprise these fabric blends. Our fabric blends are frequently tri-blends, although we are willing to explore other fabric blends for custom-finished and wholesale production orders. Other fabric options include premium knits, fleece, and fabrics for sheer burnout styles.
Learn more about Royal Apparels fabric details; we also customize organic apparel according to ad specialty or ASI wear standards.
Custom, Organic Infant Clothing and Other Apparel Styles
Wholesale/business customers are welcome to request sample garments for organic infant clothing or other styles. Royal Apparel offers rapid sample garment production, and production runs to meet your specific sizing and design requirements—we do need your designs and tech-packs for custom production runs. We have a quick sample garment production turnaround times. Additionally, we have quick deliveries for custom production runs or customized inventory stock items, thus allowing you to get your customized garments finished, shipped and out to stores.
Additional custom services for original apparel or for alterations of inventory stock items include:
Blanks or monochrome garments

Custom sizing

Dip dyes

Embroidery services

Sewing services

Sheer burnouts

Silkscreen printing services (ad specialty standards)
Businesses, be sure to sign up for a wholesale business account. Companies are welcome to order inventory stock items, purchase bulk clothing, blanks, and sale apparel, or to request garment customization or custom production runs.
Call Royal Apparel at: (866) 769-2517
Business Fax Line: (631) 922-8438