Customized and Private Label Hoodies Are Available from Royal Apparel
Sign Your Company Up for a Wholesale Account
Royal Apparel Produces Private Label Hoodies for Resale
American clothing manufacturer, Royal Apparel located in Hauppauge, New York, produces a wide range of apparel including private label hoodies and other garments for private labels and other brands. We also offer business customers a wide range of manufacturing, production and garment finishing services along with environmentally-friendly fabric options.
Individual customers and business may purchase any of our clothing at retail direct through the Royal Apparel online store. Businesses, wholesalers, private labels/private clothing brand lines, clothing distributors and suppliers, retail chains or even individual retail stores may purchase any of our inventory stock items at wholesale. We also produce blanks for customization and custom finishing as well. All products manufactured by Royal Apparel are guaranteed to be manufactured and "sweatshop free" conditions and we also offer union-produced apparel as well.
Businesses, private labels, clothiers or individual retail customers may reach Royal Apparel at 866-769-2517.
Inventory Stock or Customized Private Label Hoodies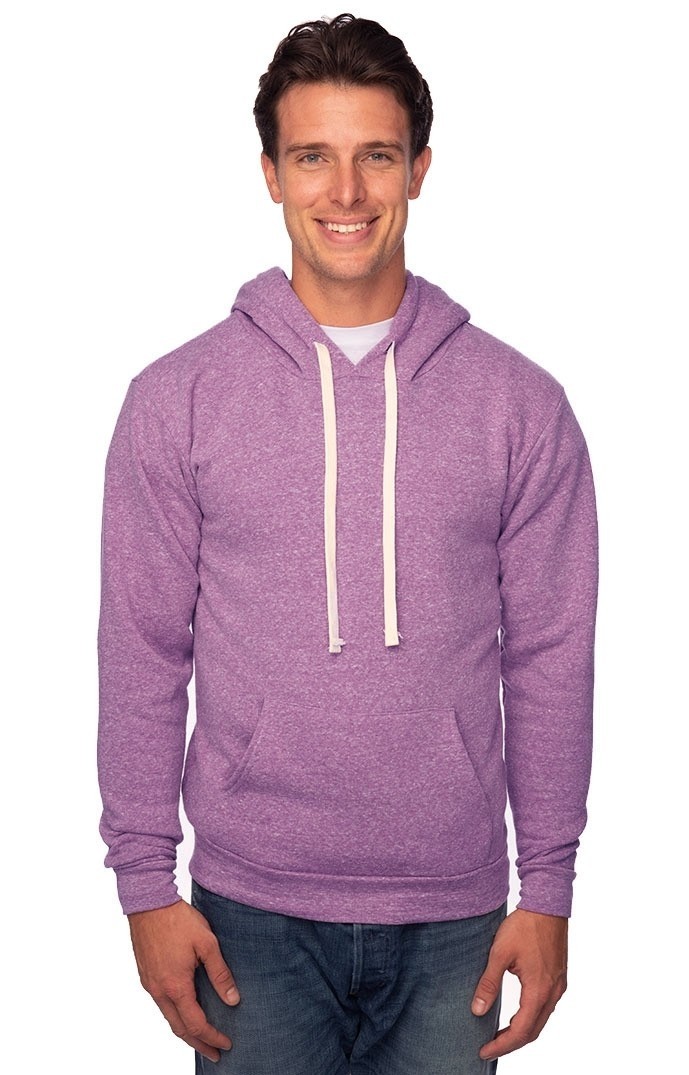 Royal Apparel manufactures a range of hoodies for our on retail sale. Businesses may buy inventory items for their own line of private label hoodies or request custom manufacturing per you specifications, fabric choice and sizing. We offer a range of unisex hoodies in different fabrics and blends as well as pullover hoodies, thermal hoodies and infant and toddler full zip hooded sweatshirts. We also customize inventory stock items for our business clients, just let us know if you wish to purchase inventory apparel at wholesale rates or if you require custom finishing services or completely custom hoodies for your own clothing line that includes your private label hoodies.
Some of inventory stock hoodies and hooded apparel are ideal for your line of private label hoodies or your business can request custom manufacturing of hoodies for your clothing line. Some of the current styles of our American-made hoodies that are in-stock include:
Unisex Organic Full Zip Hooded Sweatshirt
Unisex Organic RPET Fleece Pullover Hoody
Unisex Camo Fleece Full Zip Hoody
Unisex Camo Pullover Hoody
Unisex Fashion Fleece Pullover Hoody
Unisex Thermal Full Zip Hoody
Unisex Triblend Fleece Pullover Hoody
Unisex Organic RPET Fleece Zip Hoody
Toddler Full Zip Hooded Sweatshirt
Infant Full Zip Hooded Sweatshirt
Unisex Fashion Fleece Zip Hoody
Unisex Organic-Hooded Pullover Sweatshirt
Unisex Triblend Fleece Zip Hoody
Fabrics, Standard Sizing and Inventory Clothing Options for Your Line of Private Label Hoodies
Royal Apparel offers business customers several fine fabrics and blends to choose from including several environmentally-friendly fabrics, 100% organic cotton, organic bamboo and cotton, recycled polyester and plastic fibers (RPET), as well as various blends, fine jersey, fleece and polyester fabrics. Also, we offer a variety of colors for most of fabric or product styles. Please discuss your production expectations and requirements with us if you opt for completely custom hoodies. Our own inventory hoodies are available for custom finishing to meet the requirements of your band or private label. Hoodies are available in the above mentioned styles as inventory stock items.
Your business can learn more product details about our standard fabrics and our standard sizing by reviewing the following web pages:
Learn more about Royal Apparel's fabric blends
Businesses may purchase inventory stock clothing in bulk including any of our hoodies for your private label hoodies. Please review our product pages throughout the Royal Apparel online store for more information.
Also, you may review Royal Apparel's general product categories: Women's Clothing, Men's Clothing, Kids & Infants Clothing (Infant, Toddler, and Youth), Organic Clothing, New Styles, Sale Items, and U.S.A. Made Clothing.
Additional Business-to-Business Services for Private Label Apparel and Hoodies
Royal Apparel offers business customers a wide range of services from wholesale/bulk sales to custom finishing services to complete custom manufacturing. Royal Apparel is an ASI member. We adhere to ad specialty production standards whether you opt for custom manufacturing or just additional finishing services such as silkscreen printing, embroidery, sewing services, or sublimation dyeing.
We offer our B2B customers wholesale pricing rates along with free freight truck shipping throughout the contiguous USA for eligible orders. Royal Apparel provides a range of custom apparel manufacturing and finishing services including:
Ad specialty quality production
Blanks for customization, printing or dyeing
Private labeling services
Quick turnaround times on custom product runs
Sample garment production
Sewing services
Sheer burnout styles
Custom sizing options available for custom production runs
Standardized sizing
Sublimation dyeing
Tear-away labels
Additional services per request
Contact Royal Apparel for Your Company's Private Label Hoodies or Other Customized Apparel
Business customers may contact Royal Apparel with any of your questions about our current inventory stock, about wholesale pricing rates, bulk ordering, custom production runs to meet your company's specifications and requirements, sample garment production, custom manufacturing services, customizing/finishing services particularly for private label apparel, sales or discounted clothing purchases, or other questions about our available fabrics and full-service manufacturing and finishing capabilities.
Business customers may call Royal Apparel nationwide, direct and toll-free, at 866-769-2517.