fmrspx

Unisex Rib Spandex Face Mask
---
---
Please Note: Not Medical Grade Face Masks
Per the Centers for Disease Control (CDC) recommendation regarding health care professionals (HCPs) use of homemade masks:

HCP use of homemade masks: In settings where facemasks are not available, HCP might use homemade masks (e.g., bandana, scarf) for care of patients with COVID-19 as a last resort. However, homemade masks are not considered PPE, since their capability to protect HCP is unknown. Caution should be exercised when considering this option. Homemade masks should ideally be used in combination with a face shield that covers the entire front (that extends to the chin or below) and sides of the face.
Intended for one time use, if planning to wear multiple times, machine wash with detergent, lay flat to dry.
FABRIC:
An assortment of colors in our rib w/Spandex (different blends triblend, 50/50, eco tri, org rpet, etc) 6.2-6.9 oz/sq yd.
ITEM DETAILS:
Breathable fabric
One size fits most adults
Soft against the skin
Raw edges
Can adjust for 2 sizes
Single layer
No label
FEATURES:
Easy fitting and comfortable.
MADE IN: USA
An assortment of colors.
All sales are final. We recommend purchasing a sample prior to bulk orders.
Need help placing an order?
Chat with us by using the link at the bottom of the page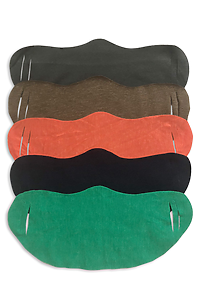 FMRIB1