Triblend Wholesale Clothing Available Direct from the Manufacturer, Royal Apparel
Set Up a Wholesale Account to Purchase Clothes Made of Triblend at Wholesale Prices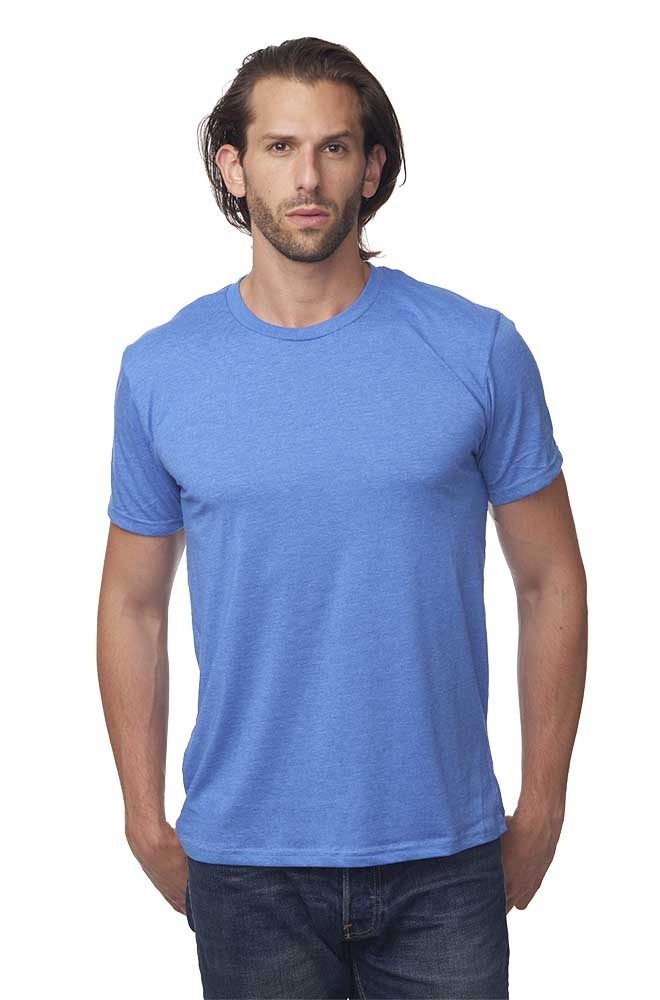 Innovative Fabric, Triblend Wholesale
American-made clothing using innovative fabric blends including Triblend at wholesale pricing offers business customers a wide range of cuts, styles, types of clothes, custom apparel, and sustainable fashions using environmentally-friendly fabrics and production methods. Royal Apparel of Hauppauge, New York, is your American manufacturer committed to producing high-quality clothing using environmentally-friendly fabrics and blends. We operate a union shop, and our production capabilities and commitment ensure that our American-made clothing is made in "sweatshop free" conditions, or under fair trade business. We can also meet many company's general standards for custom clothes manufacturing and/or finishing services.
Retail customers and businesses may contact Royal Apparel direct for help with orders from or inventory. If you represent a company interested in wholesale pricing or custom clothes manufacturing services, then contact us to discuss your requirements. You may call Royal Apparel toll-free at 866-769-2517.
Go Green with Clothes Using Triblend a Wholesale Prices
Royal Apparel's Triblend wholesale fabric or inventory stock provides you with comfort, style and an ecologically-friendly fabric, which can be ideal for businesses, private labels, retailers, or other companies with eco-conscious patrons. Each product in our inventory uses fabrics or various blend ratios and may have overall weight, thickness, measurements, and content per square yard. We can also offer business customers blanks, "white" neutral color blanks, or similar items as well as these different styles. You can learn more about each fabric blend (click "go green").
Our American-made Triblend clothes are comprised of Polyester, organic cotton, and Rayon, with a few variants with other options including Spandex. We also offer businesses a wide range of customization services from manufacturing to clothes finishing, or providing blanks for silkscreen printing, or even Polyester blanks for sublimation dyeing.
You can go green with Royal Apparel and our fabrics including inventory stock wholesale Triblend products or other fabric options including:
Viscose Hemp Organic Jersey
Viscose Bamboo Organic Jersey
Organic RPET Jersey
Organic RPET Fleece
Eco Triblend Thermal
Eco Triblend Spandex Jersey
Eco Triblend Jersey
Eco Triblend Fleece
Triblend Rib
Triblend Jersey
Triblend Fleece
Polyester Jersey
Baby 1x1 Rib
Organic Baby 1x1 Rib
Baby 2x1 Rib
Organic Baby 2x1 Rib
Fine Jersey
Organic Fine Jersey
Cotton Spandex Jersey
Recycled Jersey
Organic Fashion Fleece
Fashion Fleece & Camo Fleece
Burnout Jersey
50/50 Combed Thermal
Active Dri Performance Jersey
50/50 Blend Fine Jersey
50/50 Premium Thermal
Royal Apparel also has some other fabric and blends including organic cotton and hemp on some shirts, and other options. When you chose Royal Apparel, you also have custom apparel manufacturing and/or finishing services available for business customers, specifically, custom production runs. We offer clients quick turnaround times on sample garment production, and quick turnaround time on your entire production run of shirts, clothes, or other styles using Triblend for wholesale shirts and apparel, or choose other available fabric options.
Contact Royal Apparel for Triblend Wholesale Clothes
Royal Apparel maintains an extensive inventory of clothing styles to fit most standard sizes. Your business may contact Royal Apparel (866-769-2517) to purchase direct or to request custom fabrication services or private label services. We offer an extensive selection of clothes add throughout the year. Our commitment to sustainable fashions continues to grow and we can offer more organic products including organic and recycled Polyester and plastic fibers (RPET). Contact us for custom manufacturing services or for assistance ordering online.