Wholesale DTG Sweatshirts & Hoodie Options
As a leading wholesale supplier of USA Made sweatshirts and hoodies we have plenty of options for direct to garment printers to choose from.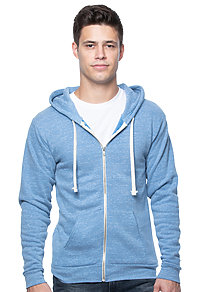 Why Direct to Garment Printers choose our apparel?
Quality – we only use combed ring spun cotton which reduces short or stray fibers that can mar would be perfect prints.
USA Made – our domestic production allows quick turn production on custom styles, re-labels and restocking.
Selection – we have one of the largest selections of styles, fabrics and colors available in USA Made, Eco and sustainable apparel.
Before ordering wholesale DTG sweatshirts and hoodies we recommend testing your process on samples. We have a sample program for existing and new customers.
Wholesale Sweatshirts and Hoodies Selections
Zip-ups – quality construction with sturdy zippers
Pull-over – flat or round drawcords, many colors
Kids – scaled down fashion for youth, toddler and infants
Eco – Sustainable Viscose Bamboo/Hemp Blends
Recycled – RPET blends
Embellished – Tie dye, burn-out washes and neon.
Royal Apparel offers sustainable, eco-friendly options so our customers can meet the needs of any consumer! Need help selecting the best DTG ready hoodie or sweatshirt, chat with us about your needs.
Our facilities are located on the East Coast of the United States, manufacturing entirely in the USA.
Let us earn your business! Take the Royal Apparel feel the difference challenge.