Royal Apparel Manufactures Wholesale, Eco Friendly Clothing Brands, Private Labels and Blanks for Business Customers
Wholesalers, Eco Friendly Clothing Brands and Blanks Are Available from the Manufacturer
Leading U.S. clothing manufacturer and union-shop Royal Apparel produces an extensive assortment of wholesale eco friendly clothing brands, blanks for finishing (e.g. silkscreen printing, embroidery, sublimation dyeing, etc.) and custom-made garments for businesses. Our extensive list of eco friendly clothing and apparel options for environmentally friendly clothing brands include a wide range of clothing and apparel styles and cuts of shirts and other products in sizes ranging from infants, to toddler/youth sizes through adult women's and men's sizes—custom sizing available on custom production runs.
Wholesale apparel vendors, clothing distributors, suppliers large and small, corporate/national clothing chains, private label companies, and individual retail business customers may contact Royal Apparel in Hauppauge, New York, about wholesale pricing rates, about wholesale orders of our current inventory stock items, custom manufacturing and/or custom finishing services. Businesses or individual retail shoppers of our online store may call us at (866) 769-2517.
Wholesale, Eco Friendly Clothing Brand Options at Royal Apparel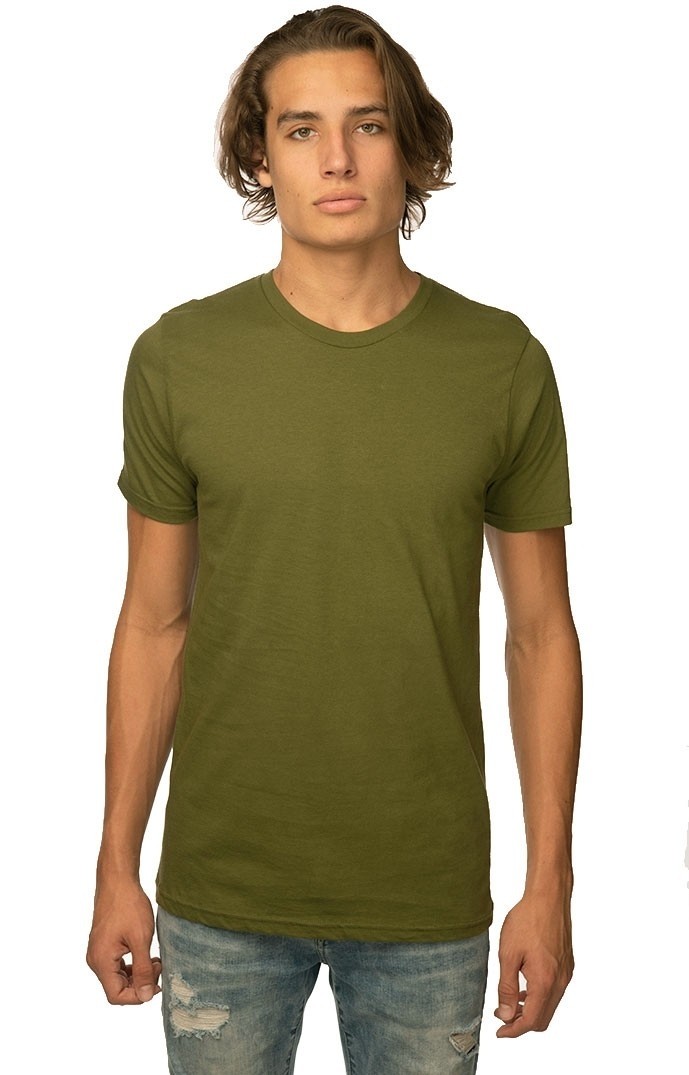 Wholesale, eco friendly clothing brands, blanks and custom garments are available direct to our business-to-business customers once you establish a wholesale account with Royal Apparel. We do produce a wide range of style of blanks with options including organic and wholesale, eco friendly clothing brands, 100% Polyester blanks for dyeing, blank t-shirts for printing, and other options for blanks for your own clothing line or private label brand.
Royal Apparel produces American-made clothing at a union shop in New York, and we do offer a few garments produced or partially manufactured overseas, which is listed on individual product listings, but we have very high production standards and we guarantee that all of our fabrics including 100% certified organic fabric, our organic bamboo and cotton blend, and our recycled Polyester and plastic fiber fabric, or RPET, and are produced under "sweatshop free" conditions—Royal Apparel only produces "sweatshop free" clothing.
Royal Apparel is an ASI member, and we produce wholesale, eco friendly clothing brands and apparel options that meet ad specialty standards. As one of the organic clothing manufacturers operating domestically, we manufacture ASI organic apparel, 100% certified organic shirts and apparel, wholesale organic bamboo clothing, organic t-shirt and organic cotton shirts, and blanks for your organic t-shirt supply.
Royal Apparel offers several fine fabric options one our inventory products as well as for custom manufacturing. Besides our standard fabrics, we do also offer several blends. Your business can learn more about your fabric options at Royal Apparel by reviewing the following pages of our website:
Our fabric and blends available for wholesale, eco friendly clothing brands (inventory and custom manufacturing) includes 100% certified organic cotton, a blend of organic bamboo and organic cotton, our recycled Polyester fiber option (RPET), or even our Triblend fabric (Rayon, Polyester and cotton) may meet your companies specific requirements.
Custom Manufacturing Services for Wholesale Eco Friendly Clothing Brands
Royal Apparel offers business full-service, custom clothing manufacturing and finishing services needed, or pick garments for your wholesale eco friendly clothing brands direct from our inventory. For business interested in completely custom manufactured, eco friendly clothing for private label brands or blanks for finishing, we can offer your company services including quick turnaround times on sample garment production and quick turnaround times on custom production runs. We offer business-to-business services for wholesalers, for eco friendly clothing brands and services including general manufacturing. Please contact if your business needs a manufacturer for custom clothing manufacturing, wholesale bulk clothing, blanks for printing or sublimation dyeing, ad specialty quality finishing (meeting ASI standards), embroidery and additional sewing services, private labeling, re-branding/re-labeling services, silkscreen printing, standardized apparel sizing—custom sizing on custom production runs, tear away labels, wholesale pricing and additional services as requested.
Your business can learn about our fabrics and blends including organic bamboo, 100% organic cotton, fine jersey style fabric, fleece, RPET (recycled Polyester and plastic fibers), and various fabric blends—do not hesitate to ask about your fabric options for wholesale eco friendly clothing brands for your eco-conscious customers.
Contact Royal Apparel for wholesale pricing, custom manufacturing services or custom finishing as needed for your private label brands. Businesses, or individual shoppers of our online store, may call Royal Apparel at (866) 769-2517.