Royal Apparel Manufactures Wholesale Zip Up Hoodies
Sign Up for a Business Account for Zip Up Hoodies Wholesale with Royal Apparel]
American-Made Beanies at Wholesale for Commercial Clients
Royal Apparel offers wholesale zip up hoodies and many other styles for your business. We off affordable wholesale pricing rates and we also offer custom manufacturing service. Individual retail shoppers and our business customers can rely on Royal Apparel for high-quality production standards. We are committed to producing a wide range of eco-friendly clothing, and blanks or organic apparel wholesale.
Royal Apparel is an ASI member and we produce high-quality, sustainable clothes using sustainable fabrics as well. You can see our product details, we meet or exceed ASI organic apparel standards or specifications. We are committed to supplying our business customers American-made, organic apparel at wholesale. We are a "sweatshop free" clothing manufacturer. We can guarantee that your business is supplied with "sweatshop free" clothing. We offer customers and business wholesalers a wide range of clothing styles, cuts, sizing and fashions.
You may contact Royal Apparel or call us direct at 866-769-2517.
Wholesale Zip Up Hoodies and Sustainable Fashions Available at Royal Apparel
Royal Apparel can offer business customers a variety of organic fabrics and blends with organic fabric(s) and our traditional fabric styles such as fleece, fine jersey, terry, Triblend, Polyester, or other fabric options. Royal Apparel manufacturers clothes using organic cotton, organic hemp, organic bamboo, and other options for blends with our traditional fabric to make these items sustainable clothing items as well.
Currently, we use 100% certified organic cotton, bamboo, hemp, and fabric blends comprised of these fabrics as well as a comfortable, recycled Polyester and plastic fiber fabric, or RPET. Our wholesale zip up hoodies samples/sample packs, or you can order individual items, cuts, styles and clothing that you prefer. Also, by all means contact Royal Apparel for great deals on high-quality clothing items listed throughout our online store, or contact us if you have ordering questions or you represent a business in need of wholesale zip up hoodies as well as wholesale pricing on all of your purchases throughout our inventory stock.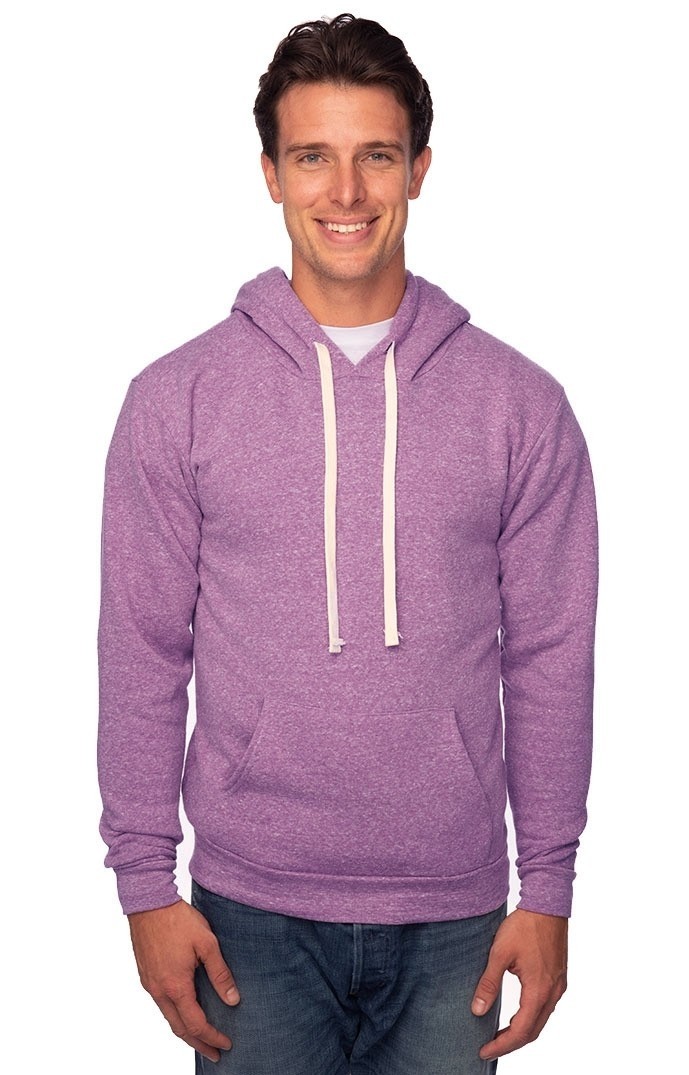 We also manufacture several styles of "Pullover Hoody" or "Pullover Hoodies" which you can search for additional product listings, additional hoodies, activewear or thermal wear as, well.
Businesses may benefit by purchasing a sample pack, particularly if you are interested in sustainable clothing. Royal Apparel's organic apparel sample pack, the SMPPKECO Royal Apparel Sample Pack Sustainable ECO Styles is an ideal starter selection of organic fashions and styles. Additionally, you may review products throughout the Royal Apparel's online store. Additionally, you may download or request a print version of the 2017 Royal Apparel catalogue and inventory.
Business customers can also rely on Royal Apparel for wholesales zip up hoodies and related products. We can offer these items in our standard colors for the product (review product page and details section. We offer business customers custom clothing manufacturing and finishing services. And, business customers can rely on our company to provide you with blanks, finished goods, or clothing that is ready for re-labeling services. Our custom manufacturing and finishing services are ideal for companies running private labels or specialized sustainable clothing brands.
Contact Royal Apparel for Wholesale Zip Up Hoodies
Royal Apparel provides wholesale business customers access to our extensive clothing stock. We also manufacture sustainable, eco-friendly clothing. Our American-made clothing such as out cold weather wearables, activewear, exercise clothes, or sportswear products. You may want to check individual categories in our online store for wholesale zip up hoodies. We do add new products throughout the year to our inventory; and, we add fabrics or mew ratios for blends.
Let us know how we can help with you with shopping for quality items such as our wholesale zip up hoodies. We can stock your product line or store for eco-friendly or sustainable clothing products. Our customers may request full-service, custom clothes manufacturing and finishing services as well. We provide quick turnaround times on custom clothes manufacturing. We offer business customers quick turnaround times on sample garment production, and quick turnaround time on production runs.
Contact Royal Apparel to make sure that your wholesale zip up hoodies, blanks, other types of hoodies or activewear, or accessories wholesale, or for other clothing items wholesale. Businesses may contact us direct to discuss bulk ordering, ordering blanks, or full-service custom manufacturing services. We also make clothes for private labels.
You may call Royal Apparel at 866-769-2517.