Introducing Royal Apparel's New, Unisex Viscose Bamboo Tee Shirt
Environmentally-Friendly Apparel from an American Manufacturer
Royal Apparel offers wholesalers and individual retail customers a new unisex viscose bamboo tee shirt. As one of the few remaining American manufacturers of high-quality clothing, apparel and other garments, we are pleased to introduce this new fabric blend for our organic, viscose bamboo tee shirt line. Specifically, the Unisex Viscose Bamboo Organic Tee Shirt (Product #73051) is available in sizing options from extra-small (xs) to triple-extra-large (3X extra-large). As indicated, we proudly manufacture apparel in the U.S.A. including a selection of organic tee shirts and other apparel.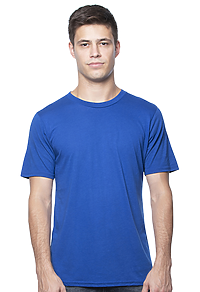 Business customers are welcome to contact Royal Apparel in Hauppauge, New York, for information about purchasing inventory stock, wholesale pricing, shipping and custom product sample designs and or ad specialty finishing options. You can reach us, toll-free, nationwide at 866-769-2517.
Choose Our Organic Cotton and Viscose Bamboo, Tee Shirt Fabric Blend
Our Unisex Viscose Bamboo Tee Shirt is an environmentally-friendly, fine viscose bamboo organic Jersey-style tee made from our organic viscose bamboo and organic cotton. This fabric blend is comprised of 70% organic viscose bamboo and 30%, combed, ring-spun organic cotton (or 4.3 ounces per square yard). This fabric blend offers your customers a silky soft fabric that is manufactured from ecologically-friendly, fully-sustainable, renewable materials. This is an addition to our organic apparel, thus indicating our continuing commitment to provide our individual retail customers, and our wholesale business clients with additional choice.
As we introduce this viscose bamboo tee shirt, and fabric blend for other apparel or customized apparel, we are offering five attractive colors.
You can choose colors including:
Canvas (Bamboo Natural)
Cocoa (Bamboo Brown)
Eclipse (Bamboo Black)
Frost (Bamboo White)
Midnight (Bamboo Navy)
If your current clientele is interested well-made, ecologically-friendly clothing, then be sure to order our viscose bamboo tee shirt selections at wholesale.
Set Up a Wholesale Account to Buy Our Viscose Bamboo Tee Shirt and Inventory Stock Items
If your business, clothing brand or end-user retail outlet does not yet have a wholesale account with Royal Apparel, then, sign up for a wholesale account. Once you sign up for wholesale pricing, you are eligible for wholesale pricing rates on all of our inventory stock items and you can request rapid product sample production or other finishing options to customize your purchases.
If your company is interested in a domestic clothing supplier that offers a wide production capacity and custom apparel finishing services, then let us know how we can provide your company with apparel that meets your branding and production requirements.
Eligible wholesale orders exceeding $250.00 may receive free, freight truck shipping rates. We can make other shipping arrangements as required.
Royal Apparel Offers B2B Finishing Services for Wholesale Accountholders
Royal Apparel offers a wide range of business-to-business manufacturing and finishing services for wholesale accountholders. We offer business customers options including custom clothing manufacturing and finishing services. We are an ASI member, and we meet quality, ad specialty design, printing, and finishing services that currently meet all ASI standards.
Just a few of your options include professional embroidery services, re-labeling services, tear-away labeling, branding, quality silkscreen printing, other sewing services, and many other choices in order to customize clothing for your wholesale distribution or retail sales. We encourage business customers to learn more about our products and also about our fabric blends, specifically our organic clothing options, organic cotton and viscose bamboo tee shirt fabric blends and our recycled RPET blend of plastics and polyesters.
Contact Royal Apparel after setting up your wholesale account. We do need tech-packs for custom garment samples and custom apparel manufacturing and finishing. Business customers are welcome to buy sale items or to purchase inventory stock apparel immediately. Businesses are welcome to call Royal Apparel toll-free, nationwide at 866-769-2517.