Organic Infant Clothing at Wholesale Is Available from U.S. Manufacturer Royal Apparel
Set Up a Wholesale Account to Order Organic Infant Clothing at Wholesale
Royal Apparel Manufactures Organic Infant Clothing (Wholesale and Retail)
If you are looking for organic infant clothing at wholesale for your business, then be sure to take a look at your fabric options and our styles for infants, toddlers and youth. Royal Apparel is a U.S. clothing manufacturer and clothing supplier running a union shop in Hauppauge, New York. We are a "sweatshop free" clothing manufacturer offering businesses full-service manufacturing, custom-finishing, and wholesale eco-friendly brands. You can rely on Royal Apparel for high-quality garments including eco-friendly clothing made from 100% certified organic cotton, organic bamboo, blends of organic fabrics, and also recycled Polyester and plastic fiber fabric (RPET) options. If you need a custom manufacturer for your custom organic infant clothing for wholesale, supply and/or distribution, then be sure to discuss you needs directly with Royal Apparel (866-769-2517), since we are a full-service, custom clothing manufacturer.
Organic Youth, Organic Toddler and Organic Infant Clothing (Wholesale or Retails)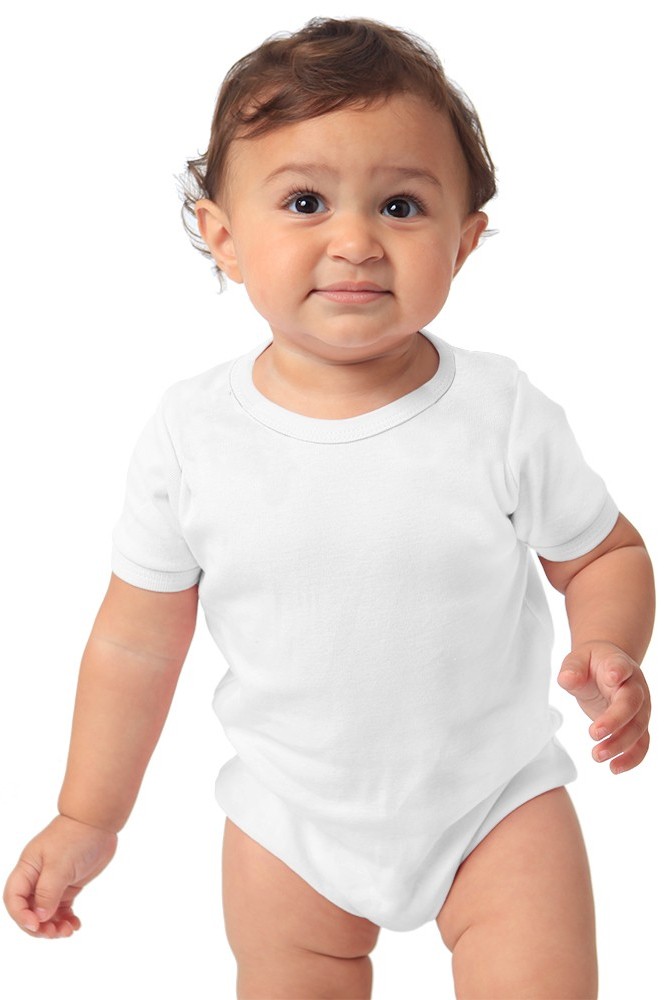 Our product line of Kids & Infants clothing includes a selection of items made from our organic fabrics are available for retail and businesses may purchase inventory stock, organic infant clothing at wholesale once you set up a wholesale business account. Each style of clothing in our organic product lines for infants, toddlers and youth generally has several color options and you can learn more about the fabrics, blends, sizing and other pertinent details by review the specific product from the product category sections list below. Organic infant clothing (wholesale or retail) is available direct from our online store.
Royal Apparel is an ASI member and we are committed to manufacturing and selling high-quality garments including ASI organic apparel that comply with ad specialty industry requirements. Businesses may purchase inventory stock, blanks or request custom manufacturing of organic infant clothing through a wholesale account—we will, of course, need your specifications and tech-packs. Royal Apparel offers quick turnaround times on sample garment production and also on general production work. We also offer businesses custom finishing services as well.
Our Kids & Infants product categories include the following:
Also, be sure to look periodically for New Styles including organic infant clothing (wholesale or retails), and also items that are available in our Toddler and Youth product categories.
Organic Fabrics and Blends for Custom Infant Clothing Manufacturing
Royal Apparel offers a range of organic fabrics, blends of organic cotton with our standard fabrics (our ecologically-friendly versions of these fabrics), and also a recycled fabric option. Our custom organic infant clothing at wholesale may be manufactured using our 100% certified organic cotton, our organic bamboo fabric which is a blend of organic bamboo and organic cotton, and various blends using organic fabrics. Royal Apparel offers companies the option of using an ecologically-friendly, recycled fabric manufactured utilizing recycled Polyester and plastic fibers, or RPET fabric. RPET and blends with organic cotton are available as well.
Additionally, Royal Apparel now offers our other fine fabrics combined with organic cotton. We produce clothing using popular fabric options such as a fine Jersey-style fabric, fleece, and various Triblend fabric options (Rayon, Polyester and cotton). We also produce sustainable fabric versions of the previously mentioned fabrics with organic cotton. You can learn more about some of our affordable sustainable fabrics and other options.
Businesses interested in custom organic infant clothing for wholesale purchases and/or complete production lots are encouraged to learn more about Royal Apparel's fabric blends and also to review our standard sizing—custom sizing available on custom production runs. If you represent a private clothing label or a business looking for a high-quality organic clothing manufacturer, then be sure to take a look at our various business-to-business services including custom clothing manufacturing and finishing services.
Contact Royal Apparel for American-Made Organic Clothing
Contact Royal Apparel for general custom manufacturing services as well as supplying your business with organic infant clothing at wholes. Your business may purchase any of our sustainable fashion products. Business customers may reach Royal Apparel toll-free, nationwide, at 866-769-2517.