Sublimation Shirts for Wholesale Business Customers
Sign Up for a Wholesale Account Today!
American Manufacturer Uses Sublimation for Shirts (Wholesale and Custom Production Runs)
If you are looking for a clothing manufacturer using sublimation for shirts (wholesale), Royal Apparel is one of the remaining US apparel manufacturers that can handle your production runs. Sublimation dyeing is a relatively recent development in ad specialty design standards that infuses sublimation dyes into fabrics for full color reproduction of images, digital files, designs and even photographs. Unlike silkscreen printing and traditional printing that prints ink onto the surface of the clothing, sublimation uses specialized inks/dyes that under pressure and heat are infused into the actual fabric fabrics. This process requires the use of synthetic fabrics, specifically 100% polyester, in "white" for the best results. The higher the original source images or data file, the better the result. For the best quality, custom production runs, use high resolution images/data files. Also, for custom production, the best production results generally take longer than silkscreen printing.
Business customers always have options when working with Royal Apparel, including custom apparel manufacturing and finishing services. We are an ASI member, therefore, we adhere strictly to ad specialty standards for any printing, silkscreen printing, sublimation dyeing, embroidering, logoing, branding, or other requirements that your business may need for private label clothing or advertising. Additionally, we offer environmentally-friendly fabric options including: organic bamboo, organic cotton, RPET (recycled polyester and plastic fibers) and various blends of fabrics.
We also offer customers fine jersey, fleece, and various fabric blends. Be sure to review information about our fabric blends and product details.
Contact Royal Apparel about your business requirements and custom-made apparel needs. We are a wholesale, U.S. apparel manufacturer, and we can guarantee that all of our clothing is manufactured "sweatshop free" production facilities. You may call Royal Apparel, toll-free at 866-769-2517.
Sublimation Dye Process for Shirts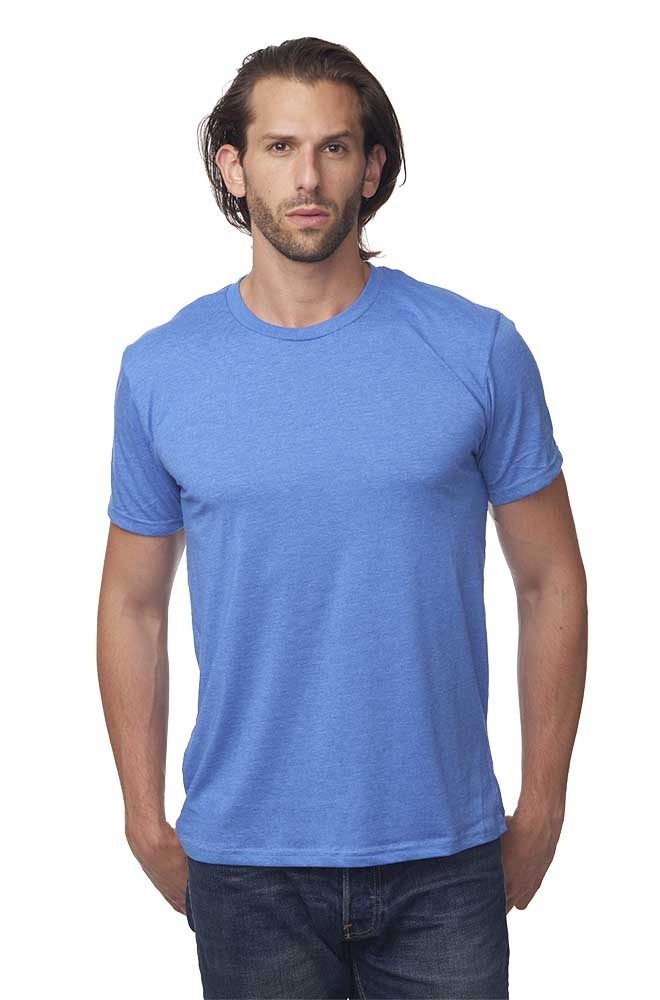 The sublimation dye process offers a wide range of benefits for clothing. By using sublimation for shirts (wholesale), you can reproduce a wide range of designs from simple business and corporate logos to designs and pictures that use all of the fabric in a shirt or other clothing. Some of the specific benefits and usage for the sublimation dye process include:
Sublimation dye literally infuses the ink onto the fibers of the apparel offering considerably more durability and wearability than printing/silkscreen print
Monochrome coloring to as wide of a color palette as required—sublimation offers true, full color image reproduction
Vivid, accurate reproductions of colors from photographs, digital files or other multi-color sources
Durability, as the colors will not wear, flake or fall off as in the case of older styles of apparel printing/silkscreen printing
Accurate reproductions of colors for branding elements and logoing
Usable on synthetic fabrics, specifically 100% polyester fabric
Colors are infused onto the fabric fibers under heat and pressure
Essentially unlimited color palette—only limited by the sublimation dye or equipment on-hand at your printer or clothing manufacturer
Sublimation dyeing offers the option of "all over printing," meaning you can print on the front, back and sleeves!
Design freedom—you can reproduce photographic images, files designed on computers, and add business logos as part of the overall design—you do not have to pay for additional printing, embroidering or sewing patches onto the garment
Sublimation for your shirts or clothing results in images that show very little fading even after repeated washing—these are truly wearable designs that last
High quality/high resolution images are required since imperfections or overall low quality of source image or design will shop
Longer production times will generally result in a garment that does not show creasing, blurring or smudging of the image—quicker production times may have these issues
There are many other benefits to using sublimation for shirts (wholesale, custom-designed apparel), although keep in mind, for the best production, your custom production runs may take longer to produce than clothing using traditional printing and/or silkscreen printing. This is definitely worth keeping in mind for custom-made clothing for your brand or private label, but the additional time is worth the end-result…which is a durable, quality garment that accurately reproduces images and colors across your color spectrum.
Additionally, "cut and sew" production takes a bit longer, but for clothing with images on the front, back and sleeves, this process may offer better results for your business than utilizing sublimation for shirts at wholesale from inventory stock apparel.
Our Standard, White, 100% Polyester T-Shirt for Use with Sublimation Dyes
Our sublimation shirts at wholesale use our 100% polyester t-shirt for the best results. This shirt is available in the neutral "white" that is necessary to produce the best images on the fabric. Our best-selling style of sublimation shirts (wholesale) are made from our soft, 100% polyester fabric. Our Unisex Polyester Sublimation T-Shirt (Product #26051) for wholesale is a great choice and the shirt to use when requesting custom sublimation dyeing for your business.
A few of the specific product details for this shirt include:
Domestic manufacturing right here in the United States
30/1 100% polyester fabric at 4.4 ounces per square yard
Standard sizing available from extra-small to triple extra-large (xs, sm, md, lg, xl, 2x and 3x)
Custom sizing available on custom production runs
Set-on rib collar design
Tape shoulder-to-shoulder design
Side-seamed manufacturing
Double-needle sleeve hem
Double-needle bottom hem
Private labels or re-labeling services
Tear-away labeling
Shirts are available in "White"—this produces the best results in the sublimation dye process
Be sure to contact for Royal Apparel for all of your sublimation t-shirts at wholesale. For these custom production runs we will require you tech-packs. Just keep in mind that you need high resolution images for the best results.
We also offer a wide range business-to-business services—just let us know what your need for your apparel and customization. If you do not have a wholesale account, then sign up for one to take advantage of wholesale pricing, business services and custom production runs using sublimation for shirts at wholesale.
Business customers are welcome to contact Royal Apparel or to call us direct, toll-free at 866-769-2517.