Sublimation Tees Wholesale—Custom, Vivid, Durable Images for Your Apparel or Clothing Line
Choose Sublimation Shirts at Wholesale for Your Company's Designs
Sublimation shirts (wholesale) including sublimation tees at wholesale are available direct from American manufacturer Royal Apparel of Hauppauge, New York. We are one of the few remaining U.S. manufacturer that produces most products in the U.S.A. We offer innovative fabric blends, organic cotton, viscose bamboo and RPET (recycle polyesters and plastic fibers. We are offering sublimation tees for wholesale account holders. These are custom garments using our standardized 100% polyester white t-shirts. The sublimation dye process, usable on synthetic fabrics (polyester) is actually superior to most forms of printing on fabrics including silkscreen printing—of course, we do offer silkscreen printing and other services meeting industry-standard, ad specialty production requirements. Royal Apparel is an ASI member, and we U.S. ad specialty production standards.
If have not set up a wholesale business account with Royal Apparel, then, sign up for a wholesale account so that your company can take advantage of custom production runs, wholesale pricing, custom sizing and additional business-to-business services. Wholesale orders over $250.00 are usually eligible for free, freight truck shipping rates, or we can make other shipping arrangements for your company.
Your business may contact Royal Apparel about inventory stock purchases, custom production runs, sublimation tees at wholesale, custom printing and other services. Feel free to call, toll-free, nationwide at 866-769-2517. You may also contact us with your questions about products, services and/or fabric details.
Sublimation Dye Process Results in Accurate, Full-Color Image Reproduction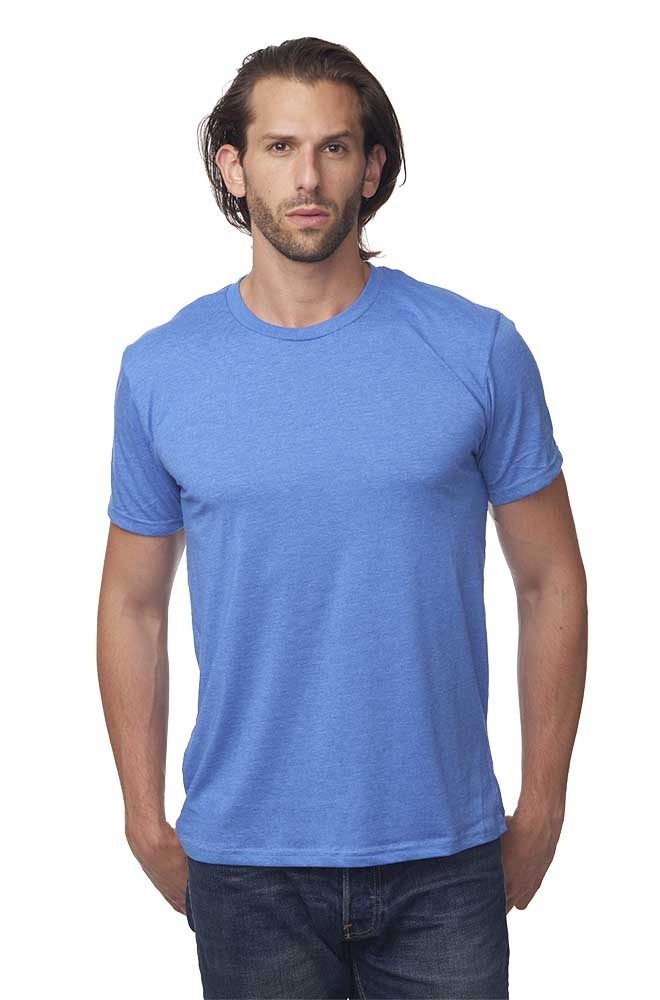 Our sublimation tees at wholesale use a standardized, 100% polyester shirt for the best production results. This particular shirt is available in neutral "white" since this color works best with reproducing images, designs or photographs using the sublimation dye process. The sublimation dye process results in vivid colors, actually a full color spectrum that most processes cannot replicated. With sublimation dying, the ink is infused into the fabric fibers instead of being an ink print on top of the shirt. Sublimation dyeing allows us to reproduce high-resolution image files, photographs, branding, logoing, or other graphic elements. The process last longer that other methods with barely noticeable fading even with extensive washing. This process offers your customer a truly wearable garment with graphics and branding that will last. Also, you can produce high quality images on the entire garment including the entire front, back and sleeves.
Our Standard, 100% Polyester Tee Is Ideal Sublimation Dyes
Our best-selling style of sublimation tees (wholesale) are made of a soft, 100% polyester fabric that remains soft to the touch after the sublimation dye process. The specific shirt is our Unisex Polyester Sublimation Tee (Product #26051), which is a great selection for sublimation dyes.
A few of the specific product details for this tee shirt include:
—Domestic manufacturing—US Made Apparel
—30/1 100% polyester fabric (4.4 ounces per square yard)
—Set-on rib collar style design
—Tape shoulder-to-shoulder style
—Side-seamed piecing
—A double-needle sleeve hem
—A double-needle bottom hem
—Tear-away labels
—Standard sizing ranging from extra-small to triple extra-large (xs, sm, md, lg, xl, 2x and 3x)—custom sizing available on custom production runs
—Tees are available in "White" for the best results when using the sublimation dye process
We offer businesses a wide range of services. For sublimation tees (wholesale) or for other custom printing/silkscreen printing we do need your tech-packs. For sublimation tees, the higher the image resolution, photograph, data file resolution or computer designs, the better since the process results in precise, true color reproduction. Additionally you can have sublimation tees at wholesale that allow you to print on the entire garment, front, back, and even on the sleeves. The image reproduction is high quality.
Additional Business-to-Business, Clothing Production Services
We offer business clients a wide range of services including wholesale pricing rates, custom production runs with quick turnaround times for sample garments and production runs, competitive lead times to market, private labeling, re-labeling services, silkscreen printing, additional sewing, embroidery, domestic and international shipping.
For the environmentally-conscious product lines and companies, we offer several other fabrics (printing services are silkscreen printing). We offer our customers the option of using fabric blends (such as our Tri-Blend fabrics), 100% organic cotton clothing options, viscose bamboo and RPET blends (recycled polyesters and plastic blends). We also have fleece and fine jersey-style fabrics as well. Learn more about Royal Apparel's fabric blends and review additional product details. All of our production is guaranteed "sweatshop free," since we control production.
Be sure to choose Royal Apparel for your custom apparel manufacturing and finishing services including manufacturing and printing sublimation tees for wholesale distribution and resale. Contact Royal Apparel about manufacturing and printing all of your vivid sublimation tees with eye-catching graphics! Businesses are welcome to call Royal Apparel direct, toll-free at 866-769-2517 about beginning the process of creating sublimation tees or for other customization services or inventory stock purchase. You may contact us with questions, service requests or for additional information.