Sustainable Fashion Clothing Options from Royal Apparel
Set Up a Wholesale Account to Purchase Sustainable Fashion Clothing
Royal Apparel Manufactures Sustainable Fashion Clothing in the U.S.
Individual retail shoppers and business customers alike can rely on Royal Apparel, a U.S. clothing manufacturer and supplier running a union shop in Hauppauge, New York, for high-quality, sustainable fashion clothing options. Besides offering a range of eco-friendly clothing including 100% certified organic cotton, organic viscose bamboo, organic viscose hemp, blends of organic fabrics and also a recycled Polyester and plastic fiber fabric (RPET), you can always rely on Royal Apparel to produce "sweatshop free" clothing. Royal Apparel is "sweatshop free" clothing manufacturer offering businesses full-service manufacturing, custom-finishing, and wholesale eco-friendly brands. We offer a wide range of garment styles and cuts fitting including sustainable fashions that fit a wide range of sizing for infants, toddlers, youth, juniors, and adult women and men.
Contact Royal Apparel about our wholesale pricing rates on sustainable fashion items, to order any of current inventory, or to request custom manufacturing and finishing services for your business, including production for private labels. Royal Apparel is an ASI member and we produce high-quality garments including ASI organic apparel that meets ad specialty requirements.
Business customers as well as individual shoppers may call us at 866-769-2517. If you have questions about our sustainable fashion products, or would like to discuss business-to-business services, you may contact Royal Apparel.
Royal Apparel's Sustainable Fashion Sample Pack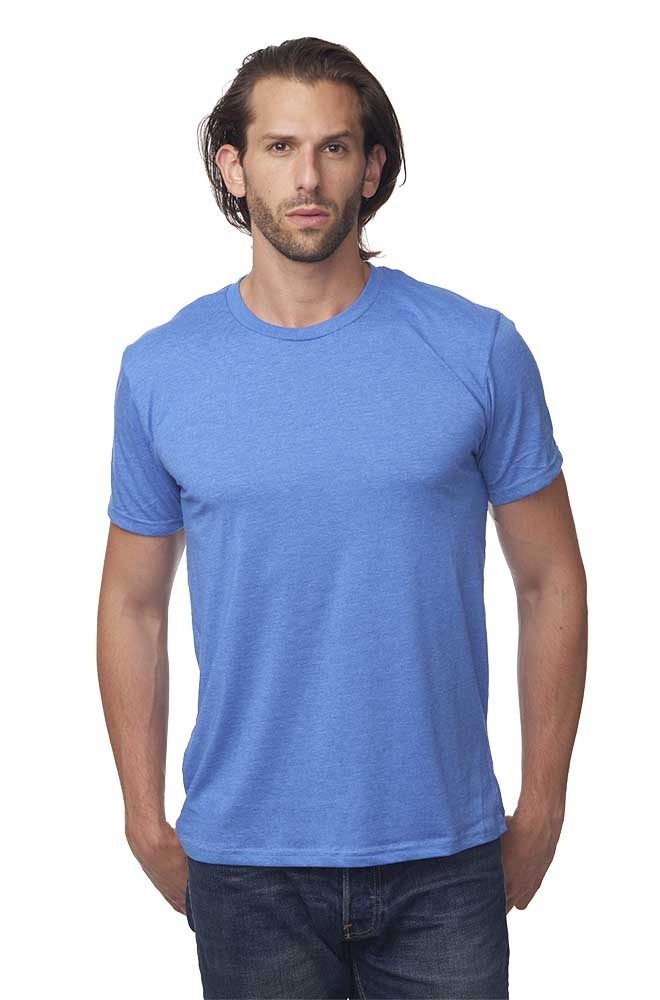 If you would like to sample several of our clothing options in our sustainable fashion product line, we recommend that you order or sample pack—this is a great option for businesses to see our sustainable fashion garments as well as review the quality of our ecologically-friendly, sustainable fabrics. We do offer retail customers and businesses a Royal Apparel Sample Pack Sustainable ECO Styles with a variety of popular cuts.
Royal Apparel's SAMPLE PACK of ORGANIC STYLES features an assortment of our best-selling and popular styles and cuts from our organic, sustainable & ECO fabrics. Our sample pack include the following sustainable fashion styles and cuts:
5001ORG ORGANIC Fine Jersey Short Sleeve Tee
5051ORG ORGANIC Unisex Fine Jersey Short Sleeve Tee
5054ORG ORGANIC Unisex Fine Jersey Long Sleeve Tee
5055ORG ORGANIC Unisex Fine Jersey V-Neck
21053ORG ORGANIC Unisex Raglan Sweatshirt
73051 NEW BAMBOO ORGANIC Unisex Short Sleeve Tee
95001 NEW ORGANIC RPET Short Sleeve Tee
95051 NEW ORGANIC RPET Unisex Short Sleeve Tee
96050 NEW ORGANIC RPET Unisex Full Zip Hoody
All of the above styles/particular products in this sample pack are made in the USA from 100% certified organic, sustainable blends and/or eco-friendly fabrics.
Sustainable Fabric Options for Custom-Manufactured Clothing
Royal Apparel offers several fine fabric options including sustainable fabrics. Please look below for some of our other organic, bamboo, recycled fiber and mixed blend clothing fabrics. We offer many more clothes styles ranging from hoodies to sweatshirts and sweatpants, to limited edition dresses, to beanies and infant wear in our sustainable fashions—just look at the product details or search through our menu for organic and RPET apparel options. And, of course, we can produce a wide range of custom garments manufactured using sustainable fabric for our business clients.
You can learn more about all of the available fabrics for custom manufactured clothing by reviewing information about our fabrics and blends, as well as our standard sizing for all age groups:
Besides our 100% certified organic cotton, organic viscose bamboo, various blends, and organic viscose hemp, Royal Apparel has a range of garment styles that use our ecologically-friendly RPET fabric, which is manufactured utilizing recycled Polyester and plastic fibers. RPET and RPET blend fabrics, along with our organic fabrics, are is ideal for any ecologically-friendly clothing companies looking for sustainable fashion clothes for environmentally-conscious customers.
Additionally, Royal Apparel offers other fine fabrics. We produce clothing using blends of other materials with some of our sustainable fabrics, and also offer some traditionally popular choices such as a fine Jersey-style fabric, fleece, 100% Polyester blanks for sublimation dyeing, and various Triblend fabric options (Rayon, Polyester and cotton).
Sustainable Fashion for Eco-Friendly Clothing Companies and Retail Customers
If you represent a private label or a clothing company and your business wishes to purchase or produce eco-friendly, sustainable fashions, then be sure to contact Royal Apparel about our business-to-business services including full-service manufacturing and/or customization services. We provide our B2B customers a range of custom clothing manufacturing and finishing services, as you require. Eco-friendly clothing companies may order any of our sustainable fashion options direct from our product line, or you may request custom manufacturing utilizing any of our organic or recycled fabrics. Royal Apparel offers quick turnaround times on sample garment production and manufacturing, as well as wholesale pricing, blanks, ad specialty quality finishing services, embroidery and sewing, private labeling services (re-branding/re-labeling services), tear away labels, silkscreen printing, and additional services per request.
Contact Royal Apparel for general manufacturing services, or to purchase any of our sustainable fashion products. Business customers as well as individual shoppers may reach Royal Apparel at 866-769-2517.