Sign Up for a Wholesale Account
American-Made Clothing at Wholesale or Retail
Royal Apparel manufactures a wide range of clothing in the United States, including wholesale hoodies and sweatshirts made in the USA. Distributors, suppliers, clothing stores/chains or individual retailers are welcome to sign up for business-to-business sales or B2B wholesale rates. All finished goods listed in our inventory stock on the Royal Apparel online store are available for retail sale or wholesale, excluding clearance and sale apparel, which may have only one price-point, although businesses are certainly welcome to buy any sale apparel products.
Order Your Wholesale Hoodies and Sweatshirts Today!
Call Royal Apparel Toll-Free Nationwide: (866) 769-2517
B2B Options on Wholesale Hoodies and Sweatshirts
Royal Apparel offers B2B wholesalers a wide range of options on apparel including wholesale hoodies and sweatshirts. You can choose blanks, monochrome apparel, finished goods or custom-manufactured clothing. As a member of the ASI, we meet ad specialty or ASI apparel standards.
Choose wholesale hoodies and sweatshirts (and thermal wear, pullovers, or specific long sleeve styles) to meet your requirements. Three main styles include wholesale hooded sweatshirts, wholesale fleece hoodies, and ever-popular fleece zip-up hoodies.
Fabric Options and Details
Additionally, we offer business custom production of apparel in general. We do need tech-packs for production. We can then produce sample garments for your company's approval. After rapid sample production and your approval, then apparel can be in production and shipped within weeks. Royal Apparel offers business customers fabric options including fleece for hoodies and other garments, premium knits, 100% organic cotton fabric for eco-conscious consumer lines, RPET blends which are manufactured utilizing recycled polyesters and plastic fibers, and we also offer fabric for sheer burnout clothing styles.
Learn more about available fabric options and Royal Apparel's product details.
Custom Finishing Options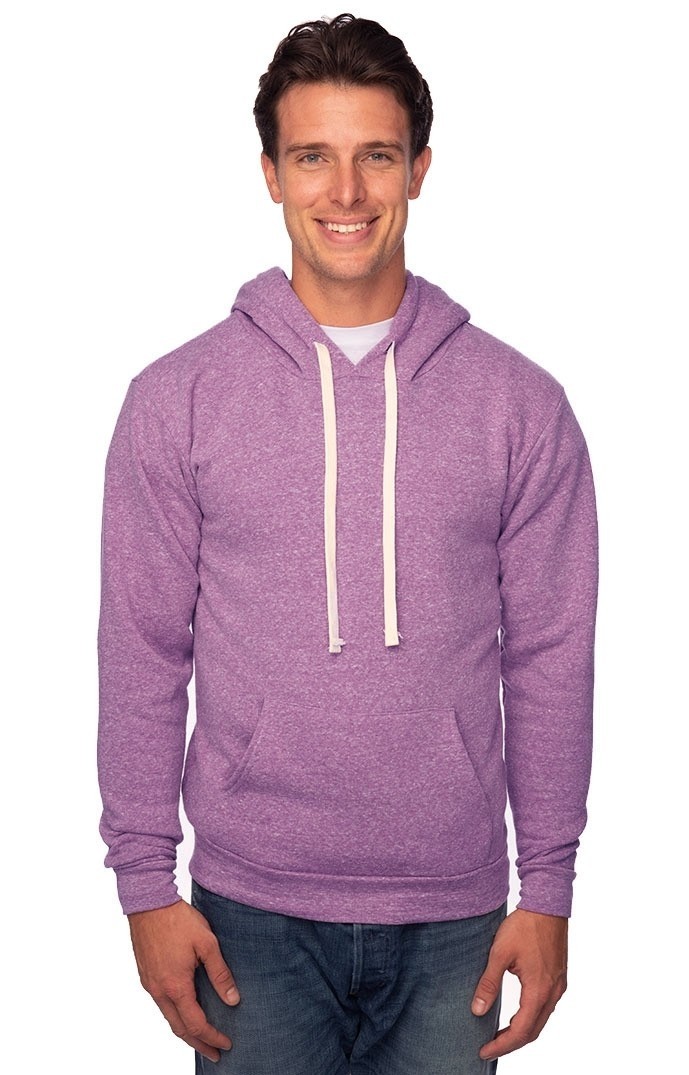 Royal Apparel offers several custom finishing options for business customers. Our general finishing services (and custom finishing for private production runs) for wholesale blank hoodies and sweatshirts, and other apparel, includes the following options:
Blanks for almost any apparel style
Bulk sales
Clothing samples for production runs
Embroidery (custom embroidering services available)
Freight shipping options
Online ordering of stock inventory items
Sewing services, general sewing or for custom garments
Silkscreen printing services meeting ASI standards
Sizing—standard sizes for women, men, teens, youth and even toddlers; custom sizing options for custom B2B production runs
Tear away labels for consumer convenience or private brands and retailers
Be sure to sign your business up for wholesale pricing. Once you have an account, we can discuss sample garments for production runs (we need tech-packs) or receive free freight truck shipping on stock inventory garments ordered through our online stores. View shipping details here.
Contact Royal Apparel for Wholesale Hoodies, Sweatshirts or Blanks
all Royal Apparel Toll-Free: (866) 769-2517
Business Fax Line: (631) 922-8438