Viscose Hemp Clothing Wholesalers: Organic Viscose Hemp Clothing Is Available Direct from Royal Apparel
Hemp Clothing Wholesalers: Set Up a Wholesale Account with Royal Apparel
Royal Apparel Supplies Viscose Hemp Clothing to Wholesalers and Retailers
Viscose hemp clothing wholesalers, if you re are looking for organic viscose hemp clothing manufacturers to supply your inventory and to supply your customers, then be sure to take a look at the viscose hemp clothing options available from U.S. domestic manufacturer Royal Apparel. We also supply organic cotton and organic viscose hemp clothing direct to clothing chains, private labels, clothing brands, clothing chains and even individual clothing stores. Additionally, once you have established a wholesale account for wholesale pricing with Royal Apparel, your business may request custom garment production runs, including viscose hemp clothing for wholesale distribution, and/or custom-finishing services of blanks or finished monochrome or Raglan/Henley style baseball apparel, or other garments from our inventory.
Your business may request custom production runs of clothing, shirts, tees, V-necks, fleece wear, sweatshirts, hoodies or a wide range of other styles direct from Royal Apparel. For viscose hemp clothing wholesalers, suppliers and retailers, we encourage you to look through the product details of our stand organic cotton and viscose hemp tees (available in several colors) and also to review information about Royal Apparel's fabrics.
Contact Royal Apparel direct about your needs for wholesale eco-friendly brands, blanks and finished viscose hemp clothing direct with the manufacturer. We can provide additional product details, let you know about our business-to-business services, our wholesale pricing rates, and provide details about ordering stock apparel, or about our custom manufacturingwe offer quick turnaround times on sample garment production and production runs (usually about one to two months). You may call Royal Apparel at 866-769-2517. Royal Apparel runs a shop in Hauppauge, New York, and we produce an extensive assortment of sustainable fashions made right here in the U.S.A. Additionally, Royal Apparel is a "sweatshop free" clothing manufacturer and we are also an ASI member.
Viscose Hemp Clothing Wholesalers: Review Our Fashionable Organic Viscose Hemp and Cotton Tee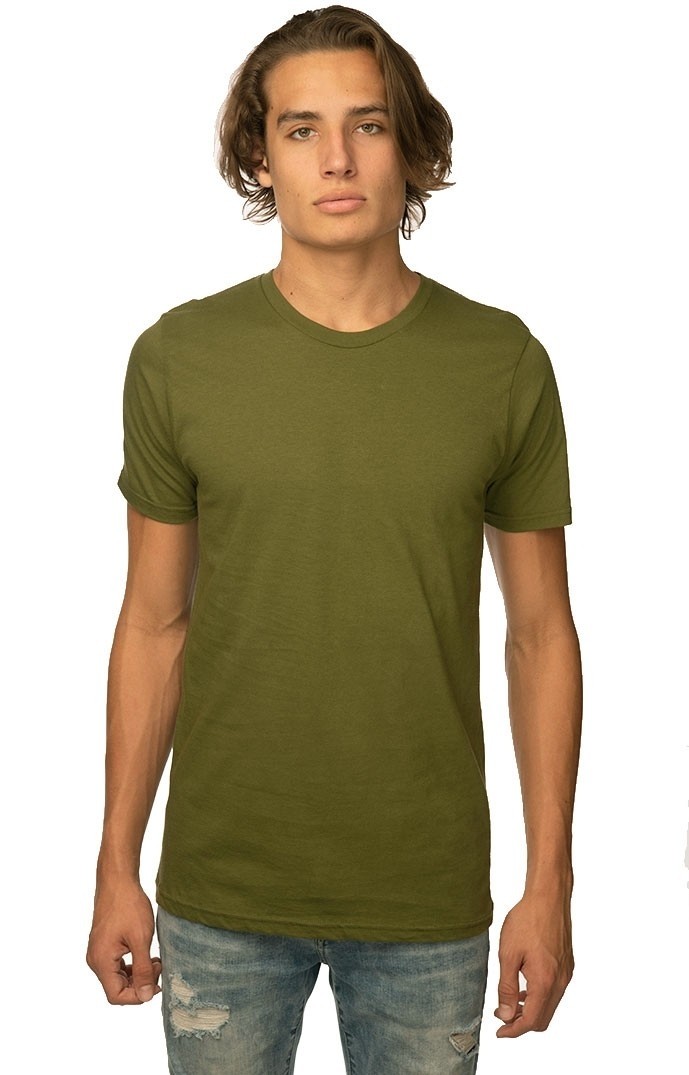 Royal Apparel is pleased to add an organic viscose hemp and 100% organic cotton blend to our product line. We now offer organic viscose hemp tees in our inventory and organic viscose hemp clothing wholesalers and other clothing business may order this item at wholesale or request custom production runs using our viscose hemp and cotton blend. As the manufacturer, Royal Apparel controls every step of the production process and ensure high-quality, organic viscose hemp tees and other apparel manufactured in the U.S.A.
Royal Apparel's inventory stock, 64051 Unisex Viscose Hemp ORGANIC Cotton Tee is now our standard inventory item and it features:
A durable organic fabric blend with professional assembly in fashionable colors
Unisex Viscose Hemp ORGANIC Cotton Tee manufactured in the U.S.A.
Viscose HEMP Organic Jersey-style shirt that is comprised of a high-quality, 60% organic viscose hemp and 40% organic cotton blend at 4.3 ounces per square yard
A sustainable fabric, eco-friendly option for our viscose hemp clothing wholesalers, other business customers and individual shoppersideal for business with eco-conscious customers
Silky soft, comfortable fabric with a great drape and cut
A set-on rib collar style
Double-needle sleeve hem and bottom hem
Tape shoulder-to-shoulder style
Side-seamed assembly
Royal Apparel's standard colors for this Viscose Hemp Cotton Tee includes: Caviar, Herb, Patriot Blue, Sand, Snowflake, and Storm
Viscose hemp clothing wholesalers, be sure to contact Royal Apparel to order this fashionable viscose hemp and cotton tee in your preferred colors, or to request custom manufacturing services utilizing our organic cotton and organic viscose hemp fabric blend.
Learn About Royal Apparel's Environmentally-Friendly and Organic Fabrics
Royal Apparel offers direct retail customers, and our business customers a wide inventory of organic clothes, eco-friendly clothing and environmentally-friendly fabrics. Customer can choose clothing using our organic cotton and organic viscose hemp fabric, 100% certified organic cotton apparel, organic cotton and viscose bamboo fabric used in our viscose bamboo clothes, clothing may using our recycled Polyester and plastic fiber fabric (RPET), and a wide range of styles and cuts fitting infants through adult women's and men's sizes using our standard fabrics blended with organics. We produce a range of eco-friendly clothing options that use our fine fleece, Jersey-style fabric, Raglan-style, and Triblend fabrics (Rayon, Polyester and organic cotton) combined usually with organic cotton, and 100% Polyester blanks for sublimation dyeing, and additional fabric blends.
Viscose hemp clothing wholesalers and retail businesses may order viscose hemp clothing or other apparel direct from Royal Apparel. Please review the product details on any items that you are interested in purchasing for your business, or request custom fabrication of hemp clothing or other sustainable fashions:
For viscose hemp clothing wholesalers or other companies with ecologically-conscious clientele, Royal Apparel can supply your company with a wide range of fashionable styles using our fine fabric options, as well as produce custom clothing production runs of apparel that meet your preferred styles, cuts, colors and fashions.
Viscose Hemp Clothing Wholesalers, Suppliers and RetailersBuy Direct from Royal Apparel
Viscose hemp clothing wholesaler, suppliers, chains, private labels and individual retail stores may buy direct from Royal Apparel. You may order inventory viscose hemp clothing, organic clothing, or other garment options as you need, or request custom clothing manufacturing and finishing services. Royal Apparel offers finishing of blanks, sample garment production and full-service, custom production runs once you approve sample garments based upon your tech-pack(s) and specifications. We also offer quick production turnaround times, wholesale pricing, wholesale bulk clothing fulfillment, blanks, as well as ASI organic apparel. Additionally, we customize blanks and other styles including sewing, and private labeling options (re-branding/re-labeling services), and we can offer tear away labels.
Contact Royal Apparel for business services including information our wholesale pricing and custom manufacturing services. Businesses may call Royal Apparel at 866-769-2517.