Infinity Scarf (Wholesale or Retail) Direct from Manufacturer Royal Apparel
Businesses: Sign Up for a Wholesale Account with Royal Apparel!
Are You Looking for a Fashionable Infinity Scarf (Wholesale or Retail)?
Royal Apparel is an American manufacturer offering a wide inventory stock of different types of clothing, accessories, and now five great Infinity Scarf styles at wholesale in several color options. We produce clothing to fit almost all age groups and standard sizing to fit most people, but we concentrate on Women's, Men's and Unisex styles for adults.
Royal Apparel offers a wide range of fabric blends as well as sustainable and eco-friendly fabrics. We use 100% organic cotton, a blend of bamboo and organic cotton, hemp and organic cotton, Triblend (Rayon, Polyester and cotton) and Triblend with organic cotton, fine Jersey style fabric and with organic cotton, fleece and fleece with organic cotton, Henley/Raglan style fabric and with organic cotton and other options. Additionally, we offer a recycled Polyester and recycled plastic fiber product RPET that is also available with a blend of organic cotton. We also produce 100% Polyester blanks that are ideal for sublimation dye work in order to reproduce vibrant graphics.
ASI Member Produces High-Quality, Organic, American-Made Infinity Scarf Products and Sustainable Fashions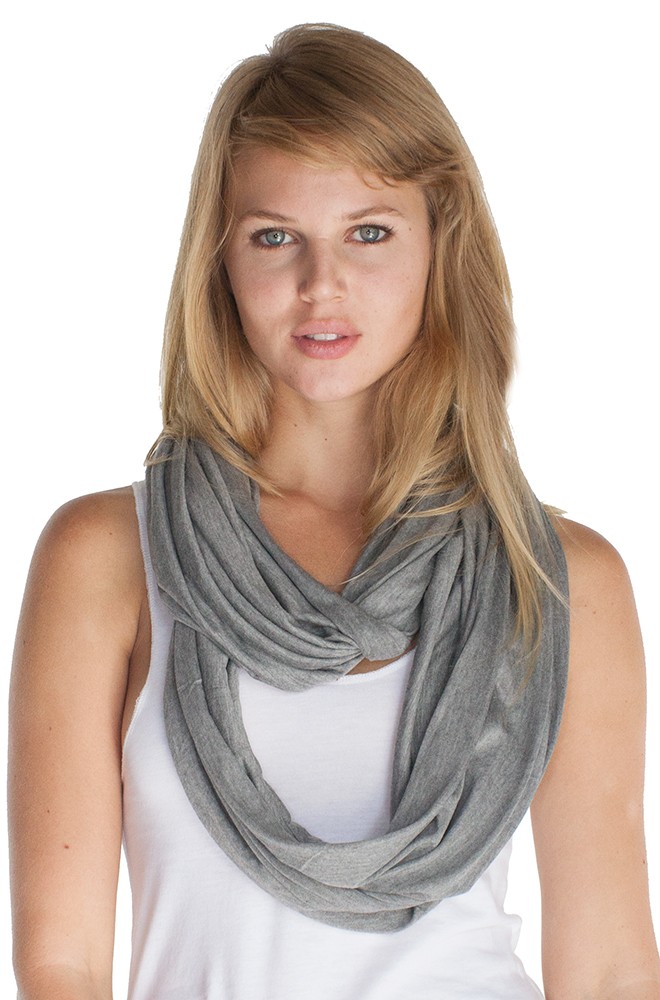 Royal Apparel is an ASI member producing an extensive, changing annual inventory stock of organic clothing. We meet high industry standards for our garments and accessories, as well as blanks for custom finishing such as silkscreen printing, sublimation dyeing, embroidery, sewing or other services. We have moved aggressively of the last few years to increasingly produce sustainable fashion clothing. Royal Apparel also produces ASI quality organic apparel. We are one of the U.S. organic clothing companies fully committed to manufacturing "sweatshop free" clothing and fair trade wholesale clothing, and that includes our current, five Infinity Scarf styles.
Our current product line of Infinity Scarf (wholesale or retail) products includes:
Or choose the Men's or Unisex version of this Bamboo Infinity Scarf:
Royal Apparel also has three other eco-friendly Triblend fabric versions of our Infinity Scarf style available as well. Be sure to take a look at additional product details on the individual product pages:
Opt for Additional Accessory Items to Go with Your Stock of Infinity Scarfs at Wholesale
You may be interested in reviewing Women's Accessories, reviewing Men's Accessories, or reviewing the Sales and Specials section that frequently has additional accessory clothing items for various age groups as well. We do offer a few items for younger kids including hats and beanies, or you may want to take a few moments to review a few additional accessory clothing items such as our 12250 Unisex ECO Triblend Beanie, our 7250 Unisex Beanie, our 32130 Women's ECO Triblend Headband, our 20130 Women's Triblend Headband, or our 17130CMO Women's Camo Headband, just to name a few additional accessory items. We can produce a wide range of accessory apparel and miscellaneous products as well as shirts, t-shirts, long sleeves, short sleeves, fleece wear, hoodies, jogging pants, sweatpants, sweatshirts, and many additional items.
Business-to-Business Services from Royal Apparel
Business customers can sign up for a wholesale account with Royal Apparel for wholesale pricing rates, as well as for manufacturing and finishing services. Royal Apparel is a full-service manufacturer for businesses small and large and we offer businesses custom clothing manufacturing and/or apparel finishing services. We do offer quick turnaround times on sample garment production as well as on custom clothing production runs.
Businesses are welcome to buy Infinity Scarf products, accessory items, individual clothing items throughout the Royal Apparel online store, or to purchase blanks of most of our products. We also ship apparel, accessories, or any of our stylish, fashionable Infinity Scarf products to business customers or retail customers nationwide.
Contact Royal Apparel or order any inventory stock including any of our five designs of Infinity Scarfs at wholesale direct through the Royal Apparel online store. Businesses of course may buy in bulk or use any of our customization and custom production services. You may call Royal Apparel nationwide at 866-769-2517.