America's Royal Apparel Manufactures, Supplies and Sells Fair Trade Wholesale Clothing
A Manufacturer Committed to Fair Trade Wholesale Clothing Production
American clothing manufacturer and union-shop, Royal Apparel, is committed to producing "sweatshop free" clothing complying with the goals of "Fair Trade" wholesale clothing for U.S. businesses. We operate a union-shop in Hauppauge, New York, and we ensure that our fabric production and garment assembly meets our high production standards. We produce a wide range of organic clothing including 100% certified organic cotton, an organic viscose bamboo and cotton blend—our viscose bamboo fabric suppliers must meet our Fair Trade wholesale clothing commitment, as well as any of partners who partially assemble some garments—and, most of our clothing is manufactured and put together in the U.S. Besides producing an extensive assortment of eco-friendly clothing for wholesale and retail sales, we are committed to fair pay and working conditions meeting Fair Trade recommendations, and quite frankly, U.S. standards, not just international minimums for work, pay, working conditions, safety, and other particulars related to the fair interchange of goods—primarily viscose bamboo fabric production and/or other fabrics in our specific case.
You may contact Royal Apparel for wholesale orders of current inventory stock items or to request custom garment production and/or custom clothing finishing services—we are a full-service shop and can work on your clothing from start-to-finish. Businesses, wholesalers and/or suppliers or end-user retailers, and also individual shoppers, may call us toll-free at (866) 769-2517 as you need.
Fair Trade Wholesale Clothing for the Socially- and Environmentally-Minded Clothing Brands and Retailers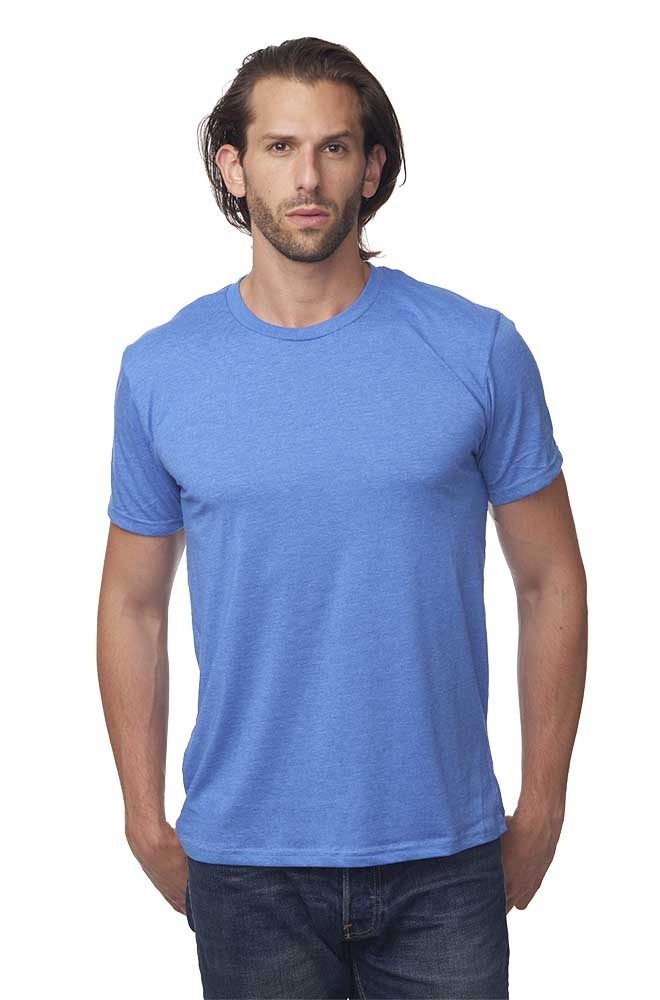 Whether you represent vendors seeking wholesale blank apparel, clothing for distribution, for corporate clothing chains, for a private label, for individual retail business, or you are an individual retail customer of Royal Apparel's online store, we are committed to fair pay for the job, fair safety standards, and we also have very high standards for fabrics including working with farmers producing organic cotton, imported viscose bamboo fibers, and also by producing environmentally-friendly clothing brands and blanks for resale that are produced under ecologically and socially responsible methods.
Royal Apparel is proud to be one of the remaining, American domestic manufacturers that can guarantee that our production is done so in a responsible manner—we are one of the "sweatshop-free" clothing manufacturers that can ensure U.S. wages, union conditions in our union shop (learn more about USA-made union apparel available from Royal Apparel), and a commitment that all of our suppliers must meet "sweatshop-free conditions" in production of fabrics or partial garment assembly/finishing. Most of garments are fully produced in the U.S. We produce American-made clothing at a union shop in New York—we do offer a few garment produced or partially manufactured overseas and that is indicated in the individual product listing details, but we can guarantee that all of our fabrics and clothing are manufactured under "sweatshop free" conditions.
Royal Apparel's Fabrics and Custom Manufacturing Services
With our extensive product line of garments that are in compliance with Fair Trade wholesale clothing practices for social and environmental responsibility, Royal Apparel is an ASI member and company that can offer other businesses union-made clothing, ASI organic apparel, 100% certified organic shirts and apparel, wholesale organic viscose bamboo clothing, organic t-shirts and organic cotton shirts, and blanks for your organic t-shirt supply. As wholesale blank apparel suppliers, we offer a variety of fabrics for our inventory and also for custom-made clothes. We offer another environmentally-responsible fabric, RPET, which is comprised of a recycled Polyester and plastic fibers—the clothing is actually quite comfortable! We also offer Triblend fabric made of Rayon, Polyester and cotton, and other fine fabrics including fleece and a Jersey-style fabric.
Your business can learn about our current fabrics and blends, as well as other product details by reviewing the following pages of our website (or review the details on individual garments throughout our online store):
Royal Apparel is full-service business partner offering business-to-business services including custom clothing manufacturing and finishing services. Some of our services include: ad specialty quality finishing meeting ASI standards, sample garment production and custom manufacturing services with quick turnaround times, wholesale and bulk clothing sales, blanks for printing or dyeing, sewing services, private labeling, re-labeling services, tear away labeling, custom-finishing services, and other services as requested by our business customers.
Contact Royal Apparel for Quality Garments Meeting Fair Trade Wholesale Clothing Manufacturing Practices
Business customers and even non-profits looking for a manufacturer and supplier of finished goods meeting Fair Trade wholesale clothing manufacturing practices and goals should take a look at Royal Apparel's inventory and also contact Royal Apparel for information about custom finishing or manufacturing that you require. B2B customers may contact Royal Apparel about manufacturing and customization services, our current fabric options and any specific product details that you need for purchases. If you have general product questions, inquiries about ecologically-friendly options, our current styles and cuts, or about customization services and our finishing capabilities, then call us at (866) 769-2517.