Quality Polyester Blanks for Sublimation T-Shirt Printing/Dyeing
Royal Apparel Manufactures Blanks for Sublimation T-Shirt Printing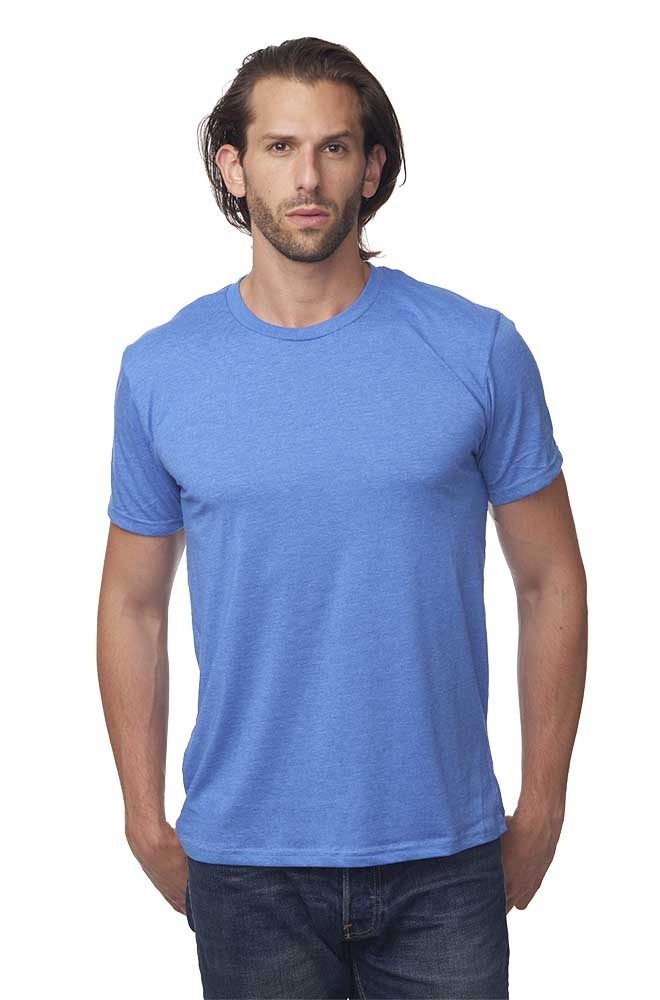 If your business, private label clothing brand, retail company or small business is searching for a supplier of blanks for sublimation t-shirt printing/dyeing or for silkscreen printing, then review the products available from Royal Apparel. As a shop with union options, we produce some union-made items in manufactured under "sweatshop-free" conditions. We are proud to manufacture domestically and we offer a U.S.A.-made t-shirt supply, ideal for your blanks or sublimation t-shirts at wholesale.
Royal Apparel is a manufacturer and custom-finisher for clothing companies and business nationwide. We manufacture high-quality, fashionable apparel including a 100% polyester blank for sublimation printing or silkscreen printing. Royal Apparel is an ASI member, and we produce this shirt and other apparel to meet ad specialty finishing standards. Once your business sets up a wholesale apparel account, you may request custom finishing services or request custom production runs per you specifications. Wholesale account holders may purchase any of our inventory stock clothing in bulk as well. We do offer other shirts as blanks, ideal for other printing or finishing methods. This particular polyester t-shirt is ideal for reproducing vibrant, photographic imaging.
Contact Royal Apparel about purchasing polyester blanks for sublimation t-shirt printing or for other finishing that meets your specifications. You may call Royal Apparel at 866-769-2517 in Hauppauge, New York, to order inventory stock clothing or to discuss your clothing production and finishing requirements.
Our 100% Polyester Blanks Are Ideal for Sublimation T-Shirt Printing
Our best sublimation t-shirts are our standard, white blanks: a super-soft, 100% polyester t-shirt, specifically, the Unisex Polyester Sublimation T-Shirt (Product #26051). This blank is ideal for general customization and sublimation dyeing. This shirt offers a well-made, classic cut and fabric base for reproducing vivid, full-color graphics using the sublimation dyeing/printing method.
Our Unisex Polyester Sublimation T-Shirt for printing features:
—A high quality, classic t-shirt style design
—Standardized sizing options: XS, SM, MD, LG, SL, 2X and 3X selections
—30/1, 100% polyester material/fabric (4.4 ounces per sq. yd.)
—Available in a neutral "white," or blank, for the best color and graphics reproduction accommodating sublimation dyeing/printing
—Set-on, rib collar style design
—Tape, shoulder-to-shoulder style design
—Side-seamed assembly/sewing style design
—Double-needle, sleeve hem style design
—Double-needle, bottom hem style design
—Optional tear-away labeling for convenience or private labels
These polyester blanks are ideal for general sublimation t-shirt printing requirements. Of course, other t-shirt styles and/or fabrics in our product line may be suited for other ad specialty quality sublimation dying or silkscreen printing requirements.
Custom Production Runs and Additional Fabrics
We can also produce custom garments and sizes per customer request. This particular t-shirt style offers a classic cut with fabric particularly well-suite for vivid, full-color graphics designs reproduction. This is our t-shirt that we recommend for bulk blanks for your own dyeing. Our business customers may request custom production and/or printing services, and re-labeling services as needed for a private label product line—we do require your company's custom production specs and tech-pack(s) for custom production runs and/or sizing.
Royal Apparel offers other high-quality fabrics besides bulks of for sublimation t-shirt printing. We recommend that you review our inventory in our online store. We offer blanks that are ideal for custom silkscreen printing or for other custom finishing. We encourage business customers to learn more about our variety of fabric blends. Royal Apparel offers companies fine fabrics including environmentally-friendly selections that we are sure your customers will appreciate. Our other fabrics include: viscose bamboo, 100% organic cotton, fine jersey style fabric, fleece for hoodies and sweats, RPET (recycled polyesters and plastic fibers), and various blends including Triblend fabric options.
Contact Royal Apparel for Inventory Stock or for Custom Manufacturing Service
Contact Royal Apparel for any direct inventory stock purchase, to request polyester blanks for sublimation t-shirt printing, or to request custom production runs—we offer quick sample garment production, and depending upon the size of the order, most custom apparel can be produced in one or two months. We also offer other blanks and blank t-shirts for your own finishing, silkscreen printing and/or graphics and branding/ads/logo reproduction.
At Royal Apparel, the shirts that your company purchases are American-made garments produced at our union shop in New York. We do offer a variety of custom-finishing services including silkscreen printing, private labeling, additional sewing services, embroidery, and other options—let us know what finishing services you require. Businesses may call Royal Apparel toll-free at 866-769-2517 to purchase blanks or inventory stock (you can order online as well), or to ask about wholesale pricing, shipping, or to discuss custom manufacturing and apparel finishing to meet your clothing specifications.
You may contact us with any service questions that you have, or for more information about particular products. Business are always welcome to purchase any discounted, sale or clearance clothing through our website as well.