Triblend Shirts at Wholesale for Business Customers
Sign Your Business Up for a Wholesale Account
American-Made Triblend Shirts (Wholesale)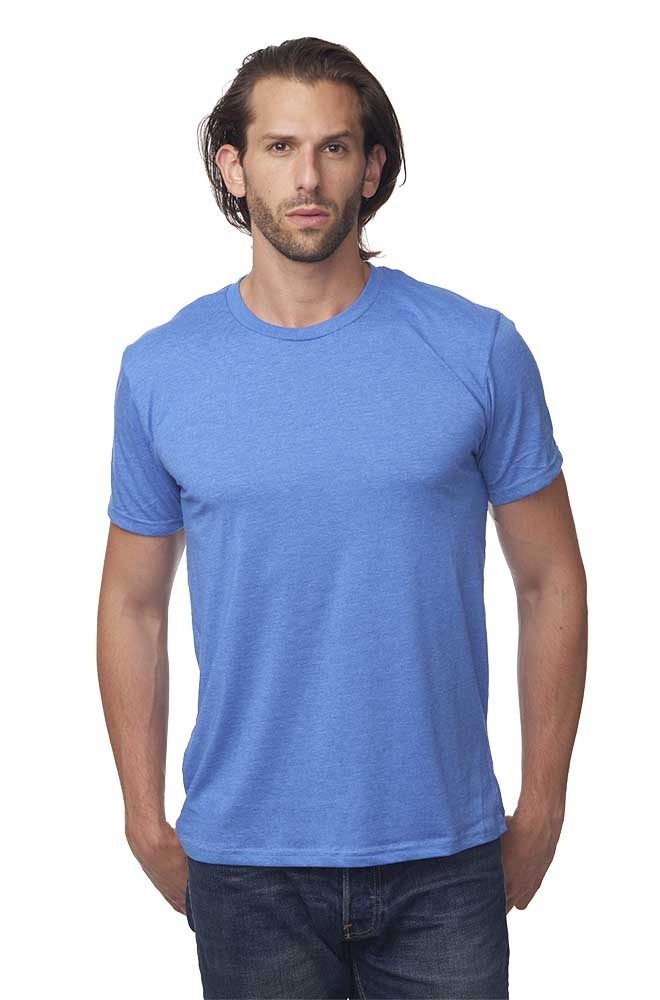 Triblend shirts at wholesale price rates including inventory stock items or custom production runs are available direct from American manufacturer Royal Apparel. Our Triblend shirts are usually a combination of polyester, cotton and Rayon in varying ratios for specific clothing, shirts, t-shirts or other garments. Royal Apparel manufacturers Triblend shirts for wholesale, resale, private labels, individual clothing chains or for retail sale. We offer our wholesale business customers a range of custom manufacturing options and finishing options. As an ASI member we adhere to ad specialty production and finishing standards including custom printing, silkscreen printing, embroidery, and for other services. We even offer sublimation dye process t-shirts (polyester only) and custom printing.
Contact Royal Apparel about your company's wholesale requirements, whether you need inventory stock garments, custom-printed/finished shirts, or you require custom manufacturing services. Royal Apparel is a New York-base, wholesale, U.S. apparel manufacturer. We guarantee that our clothing for wholesale and retail is manufactured in "sweatshop free" conditions. Businesses may call Royal Apparel direct, nationwide at 866-769-2517.
Styles of Triblend Shirts for Wholesale and Additional Fabric Options
Royal Apparel manufactures a wide range of Triblend shirts for wholesale and other garments. Some of the adult styles of shirts and hoodies made of Triblend fabric clothing that we currently have for sale on our online store include: an Old School Gym T-Shirt, a Long Sleeve V-Neck, a Unisex Fleece Zip Hoody, a Long Sleeve Raglan Pullover, a Unisex Ringer T-Shirt, a Unisex Fleece Pullover Hoody, a Women's Tank Top, a Unisex Raglan Crew Sweatshirt, a Dolman, a Unisex Raglan Baseball Shirt, a Unisex T-Shirt, a Women's V-Neck, a Unisex Old School Deep V-Neck, a Unisex ¾ Sleeve Henley, a Unisex V-Neck, a Unisex Short Sleeve T-Shirt, a Unisex Short Sleeve T-Shirt, a Unisex Tank Top, a Unisex Fleece Zip Hoody, a Deep Lapover V-Neck Tunic, a Deep Lapover V-Neck Half Sleeve, or a Women's Short Sleeve T-Shirt (search for "Triblend" on Royal Apparel).
We offer wholesale business customers several other fabric styles including some environmentally-friendly clothing options. Our fabrics also include: 100% organic cotton, fleece, an organic bamboo blend, polyester, and RPET (recycled polyester and plastic fibers). We manufacture white polyester t-shirts for sublimation dyeing as well for custom printing. Be sure to review specific pages throughout our online store for more information about our fabric blends and other product details.
Business-to-Business Services
Royal Apparel offers businesses a wide range of services from custom manufacturing, finishing services, or additional options for private labeling or other needs. Feel free to ask for specific services that your business needs. Qualifying wholesale orders are eligible for free freight truck shipping in the continental U.S.—please ask for specifics.
A few of the B2B services that your business can take advantage of besides Triblend shirts at wholesale include:
American-made clothing
Competitive lead time to get custom clothing to market
Quick production turnaround times
Custom sample garment production
Custom manufacturing services—we do need tech-packs
Private labeling options
liSewing services
Standard sizing on inventory stock, custom sizing available on production runs
Tear-away labeling
Wholesale pricing rates
Shipping services
Additional services
If your business does not yet have a wholesale account with Royal Apparel, then sign up for one so your company can take advantage of our competitive wholesale pricing, various B2B services and custom manufacturing for a specific style, such as your own Triblend shirts (wholesale), t-shirts or custom-printed shirts.
Business customers may contact Royal Apparel about wholesale accounts, business services or for direct sales of inventory stock apparel. You may call us direct at 866-769-2517.