American Manufacturer Royal Apparel Produces Union Made T Shirts
Set Up a Wholesale Business Account for Union Made T Shirts and Clothing
Union Made T Shirts and Quality Clothes Are Available for Clothing Businesses and Private Labels
If your clothing business or private label needs the services of a custom clothing manufacturer that runs a union shop, then opt for inventory stock or custom union made T shirts and other apparel available direct from Royal Apparel. Royal Apparel offers a wide range of inventory blanks and bulk union made T shirts and other garments at wholesale pricing rates. We also produce custom production runs upon sample garment(s) approval by clients.
Additionally, Royal Apparel guarantees "sweatshop free" clothing and fair trade wholesale clothing. Additionally, we produce a wide inventory of environmentally sustainable clothing including using a variety of organic fabrics including organic cotton, organic viscose bamboo, organic viscose hemp, standard fabrics combined with organic cotton, and even a recycled fabric option, RPET, which is manufactured using recycled Polyester and plastic fabrics.
Any business, retailer, private label, fundraising organizations, non-profits and other entities can take pride in supporting quality American production by purchasing our standard union made T shirts and other clothing. Your business or organization can contact Royal Apparel (located in Hauppauge, New York) with any questions about product availability, our current production line and general inventory stock, or with any questions about custom garment production runs as well as general and customized finishing services. You can also reach Royal Apparel toll-free, nationwide, at 866-769-2517 for more information about custom garment production, sales and services.
Buy Union Made, Fine Jersey T Shirts in Bulk or as Blanks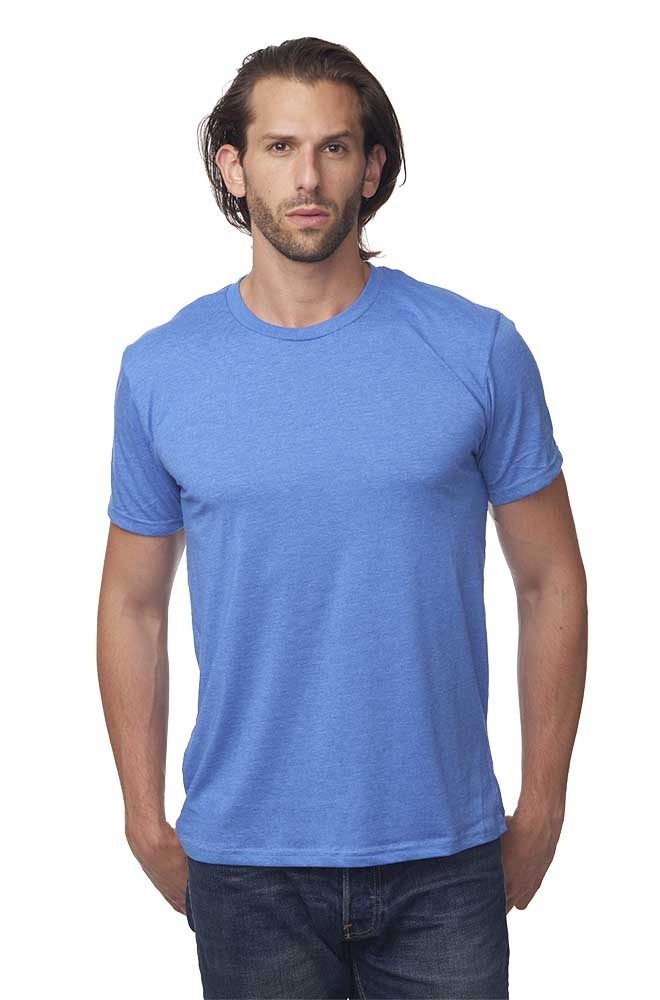 Our standard, classic, union made T shirts include our standard for businesses and clothing companies. Private labels, individual stores, retail chains, supplier or distributors can buy blanks of our union made T shirts, or finished goods. 5051UNN Unisex Union-Made Fine Jersey Tee is our standard, classic cut style tee. This product, available in several colors, offers customers a quality finished piece of clothing, or an ideal shirt for silkscreen printing, embroidery, or other customization and finishing requirements. If you need blanks in bulk, this shirt along with bulk blanks available in different cuts, styles and fashions, then be sure to order our union made T shirts in bulk and at wholesale pricing.
This fine Jersey-style, classic T shirt available in our inventory features:
30/1 combed, ring spun 100% organic cotton at a ratio of 4.4 ounces per square yard
Super-soft, fine Jersey-style fabric
Set-on rib collar design
Double-needle sleeve hems and bottom hem manufacturing
Tape shoulder-to-shoulder style
Side-seamed sewed
Tubular body sized
Offers a great drape in a classic style
Unisex style with multiple sizing options including Extra Small, Small, Medium, Large, Extra Large, 2X Large, 3X Large and 4X Large
Standard colors include: Asphalt, Black, Navy Blue, Royal Blue or Red
New colors are now available including: Gold, Purple, Platinum
A neutral white is available and an ideal garment to be used as a blanks for printing, embroidery, dyeing or other customization
Additional colors may be available for custom manufacturing and production runs
Manufactured in the U.S.A. - we guarantee that these shirts are union made T shirts!
Union Made T Shirts and Apparel Customization Services at Royal Apparel
As one of the few remaining domestic, union shop manufacturers of apparel, Royal Apparel strives to offer our retail and commercial customers stylish and comfortable fashions as well as fabric blends available for customization or custom production runs for clothing lines and private labels. Our inventory stock items, including our union made T shirts, are affordable, attractive, comfortable and stylish, and they are available for customization services. Wholesale business customers can purchase direct from our clothing inventory, request custom finishing services for blanks, purchase bulk blanks, or request custom production runs and/or customization finishing services to meet your current requirements.
Our full-service, custom clothing manufacturing and finishing services include many options:
Apparel customization from beginning to finishing the clothes
A wide range of blanks and single color T shirts, unisex clothing and other styles and cuts
Branding and/or re-branding options for inventory stock and custom union made T shirts, or other styles of clothing
Custom sample garment production
Full-service customization of blanks or production runs including branding, sewing, or other options
Environmentally-friendly fabric selections: 1000% organic cotton fabrics and blends, recycled RPET, organic cotton and viscose bamboo t-shirts and clothing, organic cotton and viscose hemp t-shirts and clothing, Raglan/Henley style fabrics, standard fabrics (fine Jersey style, Polyester, Triblend or a blend of cotton, Rayon and Polyester), fleece, and standard fabric options with a blend of organic cotton to further expand our line of sustainable clothing
Inventory sales/direct inventory stocking of our blanks and retail apparel
Re-labeling services/private labeling
Standardized sizing or custom sizing options: review Royal Apparel's standard sizing chart
Tear-away labels
Shipments throughout the U.S. and to foreign companies
We encourage business customers to take a few minutes to learn more about Royal Apparel's products as well as reviewing Royal Apparel's fabric blends and options.
Contact Royal Apparel for Union Made T Shirts and Other Clothing Styles
Retail customers may buy union made T shirts direct from Royal Apparel online. Our business customers may purchase bulk blanks of union made T shirts or other clothing, or you may request custom manufacturing and/or custom finishing services for blanks.
Contact Royal Apparel today to purchase our union made, fine Jersey-style T shirts, or any of our other clothing options. Businesses may sign up for a wholesale account in order to take advantage of Royal Apparel's wholesale pricing as well as our clothing manufacturing and customization services. Customers may call Royal Apparel nationwide at 866-769-2517.