Royal Apparel Has an American-made T-Shirt Supply
Sign Your Business Up for a Wholesale Account
Wholesale, American-made T-Shirt Supplier and Manufacturer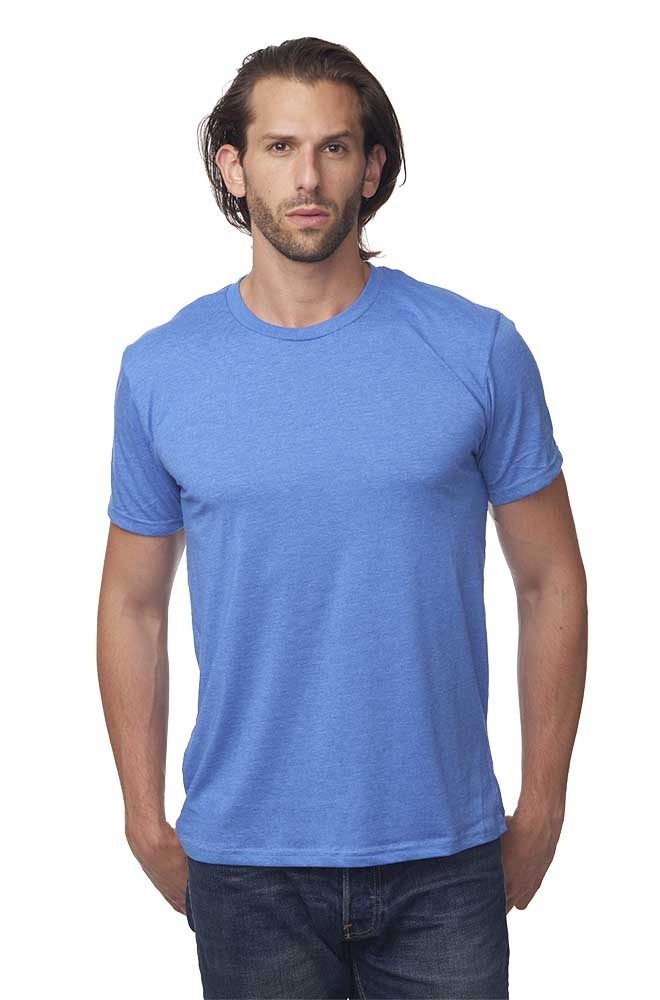 Royal Apparel of Hauppauge, New York, can offer your company an American t-shirt supply or other garments made in the U.S.A. We are proud to be a domestic, American manufacturer and the vast majority of our clothing is made in our union production shop (learn about our wholesale union apparel). Any garments that we sell that are partially or fully made overseas are guaranteed to be produced under "sweatshop-free" conditions. We ensure all of our clients that your American t-shirt supply is, indeed, clothing made in America. Businesses always have options at Royal Apparel, including buying wholesale, bulk or customized t-shirts for inventories and resale.
Royal Apparel also offers innovative fabric options and environmentally-friendly fabrics that are ideal for ecologically-friendly clothing lines or advertising purposes as well. We can offer your company 100% organic cotton fabric, an organic bamboo blend (combined with organic cotton), and other fabrics including RPET (made from recycled polyester and plastic fibers), and other fabric options including fleece, fine jersey fabric, and high quality blends.
Retailers or businesses in general are welcome to purchase garments in bulk at our wholesale pricing rates. Companies or individual customers may reach Royal Apparel at 866-769-2517.
American T-Shirt Supply Available from Royal Apparel
You can choose Royal Apparel's standard blanks as your American t-shirt supply, or choose other fabrics or blends. Our current fabrics and blends are usually available in white and various colors. Blanks are, of course, best for most customization requirements including silkscreen printing or for use with sublimation dyeing. Royal Apparel is an ASI member and our custom production, silkscreen printing, dyeing and other design and production quality adheres to industry-standard, ad specialty standards.
Our wholesale American t-shirt supply, other shirts and garments are made using the following:
Fine Jersey Fabric – a quality, comfortable fabric comprised of 30/1 combed, ring spun, 100% cotton (4.4 ounces per square yard)
Organic Bamboo – this is an environmentally-friendly fabric blend comprised of 70% bamboo fibers with 30% combed, ring-spun, 100% organic cotton (4.3 ounces per square yard)—buy bamboo t-shirts wholesale
100% Organic Cotton – guarantee 100% organic cotton bought from organic cotton farmers; this is an environmentally-friendly apparel option
Raglan Style – fabric combinations, usually two fabrics frequently used in "baseball style" shirts, jerseys or t-shirts
RPET Fabric – another environmentally-friendly fabric blend produced form recycled polyester fibers and plastic fibers
Triblend Fabrics – comfortable fabric blends used in a range of different clothing styles in our standard inventory
Blanks – choose American-made t-shirt blanks for your supply; these are ideal as white t-shirts, for customization or silkscreen printing, or buy blanks for sublimation t-shirts at wholesale
We encourage you to review more information about our fabrics and product details including:
Businesses may buy blanks or standard inventory stock clothing in bulk at wholesale pricing rates—inventory listed at Royal Apparel's online retail store has details and specifications for each listing. Businesses can request custom production runs as well.
Customization and Finishing Services for Business Customers
Royal Apparel offers B2B services for our wholesale customers. If you want your American-made t-shirts or other garments customized, or you are interested in custom production for company, we can provide manufacturing and a wide range of clothing finishing options. Business customers are welcome to request custom production runs of t-shirts or other apparel. We will need your tech-pack(s) to create sample shirts or other garments. We offer a quick turnaround on sample garment production. Once we have approval for the finalized product, we can usually have a production run done in less than two months depending on the size and/or complexity of the order. Businesses are welcome request any of our B2B production or finishing services for shirts or other apparel.
Royal Apparel's custom apparel manufacturing and other finishing services for wholesalers, distributors or retails includes:
Custom, garment sample production service
Customized, American t-shirt supply and custom production runs per client requirements
Ad specialty (ASI) quality printing services
American-made t-shirt supply (blanks)
Comfortable, environmentally-friendly fabric selections
Private labeling services
Professional sewing services
Various styles of shirts: short sleeves, partial arm lengths (Raglan or "baseball" jersey styles), or long sleeves
Sheer burnout styles available
Standardized sizing (non-standard sizing on custom garment production runs)
Sublimation dyeing (learn about wholesale sublimation t-shirts)
Tear-away labels
Wholesale pricing rates for business customers
Additional business and production services
When you purchase wholesale American t-shirt supplies or other clothing in bulk, or you company request custom manufacturing services, Royal Apparel can offer your company blanks customized with your branding, logoing, apparel design, of even event promotion advertising. We can also offer additional sewing services for patches, general embroidery, or meting other service requests. Our sewing services are performed at our U.S., union production facility.
Contact Royal Apparel for Your American T-Shirt Supply
Businesses, suppliers, distributors or non-profits may contact Royal Apparel with questions about wholesale pricing, bulk purchases, or for custom production runs, general information about buying sale or discounted clothing, other custom-finishing services, and shipping options. Individual customers are welcome to purchase any of our inventory available at our online store. Feel free to purchase direct or contact us with questions that you have regarding customizing blanks apparel or finished clothing for your business. Business customers (wholesalers, distributor, private labels/brands, retailers or individual stores) may call Royal Apparel toll-free at 866-769-2517.
Sign Up for a Wholesale Account