Cotton T Shirts Available Wholesale in Bulk Direct from Royal Apparel
Sign Up for a Wholesale Account with Royal Apparel
More Than Just Cotton T Shirts, Wholesale in Bulk-Innovative Fabric Blends and Organic Cotton T-Shirts Available from the Manufacturer
If your business is looking for a supplier of blanks, monochrome, organic and plain cotton T shirts wholesale in bulk, or bulk T shirts made from our other fabrics and innovative fabric blends, then your business can buy bulk T shirts at wholesale direct from the current Royal Apparel inventory. Of course, Royal Apparel is a U.S. domestic clothing manufacturer, union shop, and we can guarantee that our products are made in accordance with industry best practices including fair trade-wholesale bulk clothing available and under "sweatshop free" conditions. We manufacture our clothing in New York in accordance with strict guidelines. Royal Apparel is an ASI member and we also produce a wide range of ASI organic apparel clothing options, styles, cuts and sizes with an ever-changing product line.
Organic Cotton T Shirts (Wholesale in Bulk) and Additional Organic Clothing Fabric Blends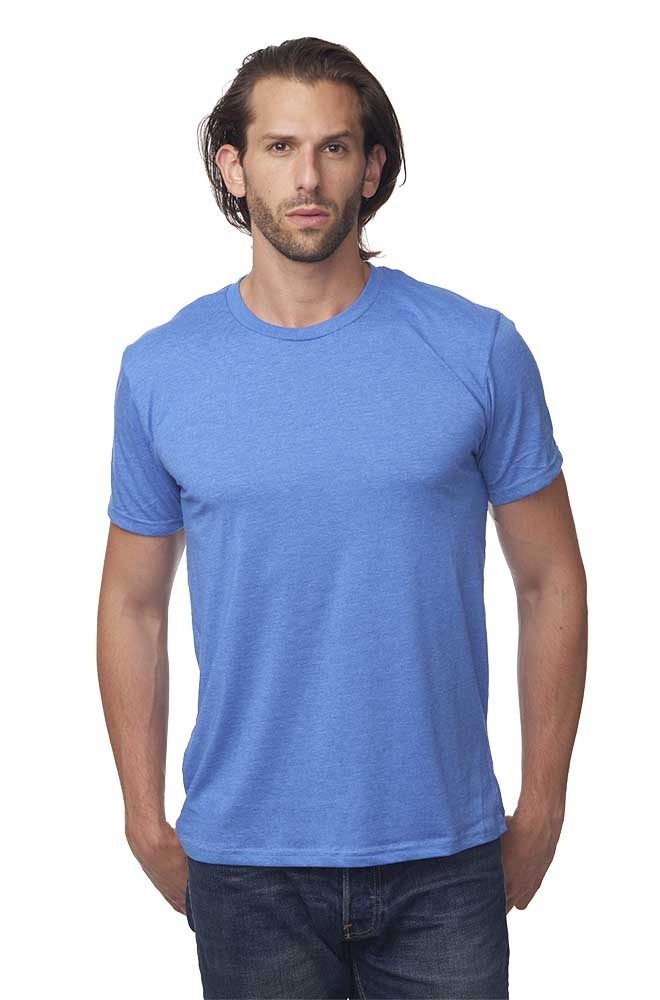 Royal Apparel continues to expanded our organic fabric options. We offer environmentally including 100% cotton, organic bamboo and organic cotton, organic hemp and organic cotton, RPET which is a recycled Polyester and plastic fibers, Raglan/Henley two-tone clothing, fine Jersey style fleece, and Triblend (organic cotton, Polyester and Rayon); we now offer a wide range of additional blends of most of our standard fabrics combined with 100% organic cotton. We offer wholesale blank clothing as well as cotton T shirts (wholesale, bulk), finished goods, monochrome finished versions or monochrome blanks, and many other options.
We continue to investigate new options for expanding our organic fabrics, organic fabric blends, and we recommend that you take a moment to learn about our organic clothing brands, services for private labeling, tear away labels, custom apparel manufacturing and finishing services, rapid sample garment production, logoing, branding, quick turnaround times for custom production runs, and many additional services utilizing any of our fabrics, but particularly utilizing our innovative range of fabrics.
We encourage business customers to review Royal Apparel's general product information and specific T shirts or other apparel product pages for more information about innovative fabric blends, blend ratios, other production options, sizing, and other pertinent product details. We do offer business customers wholesale pricing on apparel including clothes made with our environmentally-friendly and sustainable fabrics. This also provides you company with the options to promote clothes to ecologically-conscious customers. Our fabric options are for blanks or finished goods. We offer 100% organic cotton for T shirts (wholesale in bulk), organic bamboo with organic cotton, fine jersey style blends with organic cotton, fleece and fleece with organic cotton, Triblend (Rayon, Polyester and organic cotton), RPET, which is another environmentally-friendly fabric made from recycled polyester and plastic fibers, and a blend with organic cotton is available. We also offer Raglan-style baseball shirts also available with a cotton blend, and other fabrics-;we do offer 100% Polyester blanks for sublimation dyeing.
Additional fabrics currently have the option of a blend with organic cotton or probably in the near future. We are fully committed to affordable sustainable clothing brands of most of these fabrics.
Take the Time to Learn About Royal Apparel's Cotton T Shirts (Wholesale, Bulk) and Other Organic Cotton and Cotton Blend Garment Options
One of the best was to learn about our cotton T shirts at wholesale in bulk, as well as your alternate options, is to just peruse our product category of organic apparel options for all ages. We have an extensive selection of organic, classic cut, cotton T shirts (wholesale, in bulk, or blanks). Please review specific products that you are interested in as each product page has additional information about style, cuts, manufacturing details, sizing options, ratios of fabrics in blends, current colors, and other particular details about the specific product item.
Be sure to review our full product line of organic cotton T shirts, wholesale, bulk and other clothing styles. We have a wide range of fabrics for T shirts whether blanks for finished goods, and you can review T shirts and other styles listed throughout our Organics or "Eco" category at the Royal Apparel online store. We can supply your company with blanks or finished, organic cotton T shirts at wholesale in bulk-just let us know the size of the order or the custom production run as we can supply businesses and private labels small and large with high-quality blanks or inventory stock, organic T shirt supply.
Please take a look through the following product categories:
Be sure to take a few minutes to learn more about Royal Apparel, our union-made T shirts and other union-made clothing at our union shop in Hauppauge, New York, and our production capabilities as well as our commitment to manufacturing sustainable clothing and organic clothing brands.
Contact Royal Apparel for Business-to-Business Services and Ordering Apparel or Organic Cotton T Shirts at Wholesale in Bulk
Royal Apparel offers business customers full-service, custom manufacturing service including utilizing our 100% certified organic cotton combined with organic bamboo, an organic bamboo and cotton blend (organic bamboo T shirts bulk), organic cotton (organic cotton t-shirts), organic hemp (including organic hemp t-shirts in bulk), various blends of organic fabrics with our standard fabrics. We also offer a recycled Polyester and plastic fiber fabric (RPET) by itself or combined with organic cotton, and we even produce organic clothing brands for private labels and corporate/chain clothing lines upon request.
Royal Apparel can offer B2B, full-service, custom apparel manufacturing and finishing services with quick turnaround times on sample garment production as well as production runs once a client approves the final design. We do offer start-to-finish help for our business clients opting for custom production runs or custom finishing of our blank apparel and/or cotton T shirts (wholesale in bulk). Your company can discuss customizing any of our inventory stock apparel, custom production runs, or our finishing options for blanks including branding, embroidering, logoing, additional sewing, sewing patches, silkscreen printing or other business production and finishing requests.
Contact Royal Apparel or order any inventory stock through your business, wholesale pricing account with Royal Apparel, or to request custom manufacturing and/or apparel finishing. You can buy any of our inventory of blank or monochrome, cotton T shirts at wholesale in bulk. You may call Royal Apparel toll-free, nationwide at 866-769-2517.