Royal Apparel Manufacturers Organic Cotton and Organic Viscose Hemp Blank T-Shirt Fashions for Wholesalers, Private Labels and Business Customers
Set Up a Wholesale Account to Purchase Hemp Blank T-Shirts
Organic Cotton and Organic Viscose Hemp Blank T Shirt Manufacturer
If your company is looking for a supplier for viscose hemp blank T-shirt apparel, you can rely on inventory stock t-shirts made of our organic cotton and organic viscose hemp fabric blend, or you can request Royal Apparel to manufacture viscose hemp clothing for your resale. Royal Apparel supplies individual clothing stores, viscose hemp clothing wholesalers and clothing distributors, private labels, clothing chains and business of all sizes.
Royal Apparel offers retail customers and business customers a range of wholesale eco-friendly brands including eco-friendly clothing including our inventory product line featuring a variety of organic T-shirt supplies made of different fabrics. We are a U.S. manufacturer and union-shop. We go to great lengths to ensure that as one of the American green clothing manufacturers producing custom-manufactured clothing for other companies, that we offer wholesale blank apparel and high-quality garments manufactured and assembled under "sweatshop free" conditions since we are a "sweatshop free" clothing manufacturer. You can rely on us for quality clothing meeting and exceeding industry standards. Royal Apparel is an ASI member.
Popular, Organic Cotton and Organic Viscose Hemp Blank T-Shirt Supply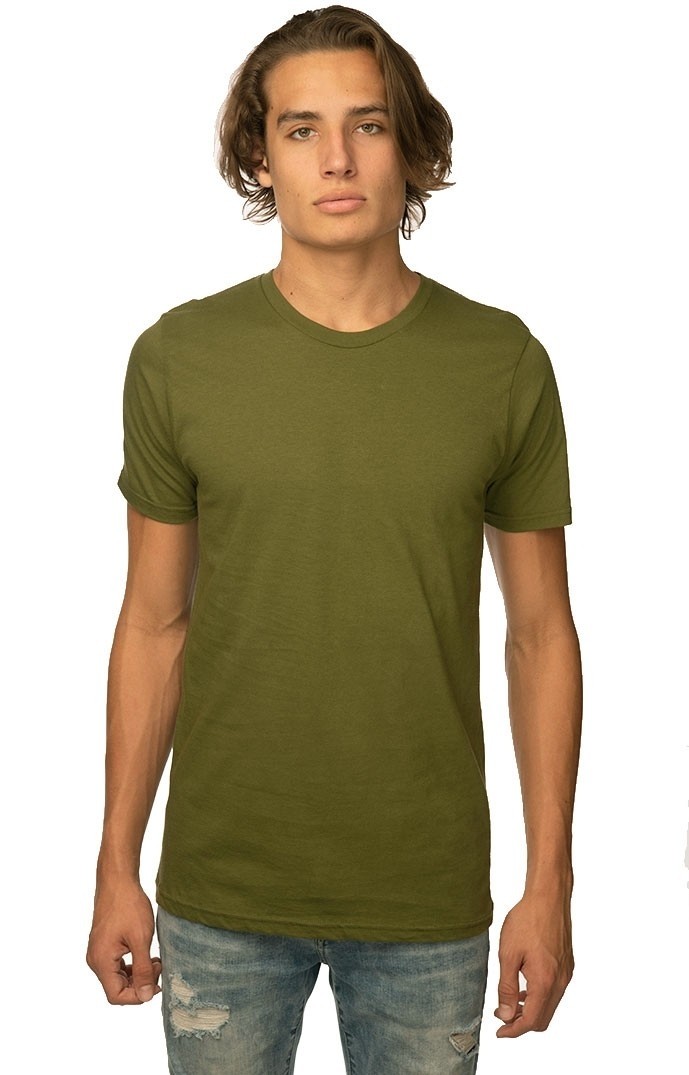 Royal Apparel's inventory stock, viscose hemp blank T-shirt product, or the 64051 Unisex Viscose Hemp ORGANIC Cotton Tee, is our standard eco-friendly, inventory viscose hemp shirt. We are pleased to offer a fabric blend of organic cotton and organic viscose hemp for blank T-shirts or for custom manufacturing for our business customers.
The main features of Royal Apparel's viscose hemp blank T-shirt are:
Unisex style organic viscose hemp blank T-shirt style manufactured to professional standards
Meets ASI organic apparel standards or ad specialty standards
Manufactured from a durable organic fabric blend of organic viscose hemp and 100% organic cotton
Our standard fabric for this item is Viscose Hemp Organic Jersey-style shirt made of a blend of organics, specifically high-quality organic viscose hemp at 60% of blend with 100% organic cotton at 40% of blend—4.3 ounces per square yard
This specific T-shirt style (organic viscose hemp blank T-shirt) offer a silky soft, comfortable fabric with a great drape and classic cut; additionally, this shirt offers set-on rib collar design, a double-needle sleeve hem and bottom hem, tape shoulder-to-shoulder design, and is assembled side-seamed
Monotone blanks made from a sustainable blend offer businesses and retail customers stylish eco-friendly fashion or a colored base for silkscreen printing, logos, designs or embroidery
Royal Apparel's fashionable colors for our organic cotton and organic viscose hemp blank T-shirt style are: Caviar, Herb, Patriot Blue, Sand, Snowflake, and Storm, which are Royal Apparel's specific colors for this year's inventory line
Royal Apparel's organic viscose hemp T-shirts (blanks) come in several monotone colors, but the overall adult sizing options include: XS (Extra Small), SM (Small), MD (Medium), LG (Large), XL (Extra Large) and larger sizes at 2X and 3X—review Royal Apparel's standard sizing
Royal Apparel's organic cotton and organic viscose hemp blank T-shirt style is made in the U.S.A.
Organic Fabrics and Blends Including Viscose Hemp for Blank T Shirts or Other Shirt Cuts and Styles
Currently, Royal Apparel offers a wide range of popular organic and popular, affordable and sustainable fabrics, which includes our unisex, adult-sized, organic viscose hemp blank T-shirt style available in our inventory. This particular shirt design and cut is ideal for use as blanks for businesses interested in bulk clothing purchases for their own finishing including embroidery or silkscreen printing. As a full-service manufacturer, Royal Apparel can offer silkscreen printing or embroidery meeting your company's designs. We can also produce completely custom organic viscose hemp shirts, t-shirts, other styles and cuts, or other clothing in general utilizing our high-quality organic viscose hemp and organic cotton blend.
Business customers may purchase direct from our inventory. Once you set up an account with us, we do offer wholesale pricing on our current retail inventory available online. Additionally, you can take advantage of freight shipping options or request custom manufacturing services utilizing our viscose hemp, other sustainable organic fabrics and blends, or other popular fabrics to meet you company's specific clothing style and design requirements for your clothing line. We offer companies private label services and tear away labeling as well.
Businesses interested in learning more about our fabrics and blends, or about custom manufacturing of blanks using organic viscose hemp should take a look at our current fabric blends for more detailed product information.
Our environmentally-friendly fabrics and our standard fabrics include a range of organic fabrics, and blends of organic cotton with standard fabrics. Our sustainable fabrics include: 100% certified organic cotton, a blend of organic viscose bamboo and organic cotton, our combination blend of organic viscose hemp and cotton used in our viscose hemp blank T-shirt product, and, blends of various traditional fabrics with organics such as our fine Jersey-style fabric, fleece, Triblend fabric options (Rayon, Polyester and cotton), or even Raglan/Henley styles. Royal Apparel offers retail customers and business customers an innovative fabric made from recycled Polyester and plastic fibers (RPET). We also offer customers and businesses a blend of RPET with organic cotton. Royal Apparel stock 100% Polyester fabric since this material is ideal for blanks made from sublimation dyeing.
Royal Apparel offers business customers custom clothing manufacturing options and finishing services from start to finish. We can offer quick turnaround times on sample garment production as well as on entire clothing production runs.
Contact Royal Apparel for American-Made Organic Clothing
Contact Royal Apparel for custom manufacturing services, supplying your business with organic viscose hemp blank T shirts or other apparel styles and cuts at wholesale, or for other services. Your business may purchase sustainable fashion products direct from our current inventory as well. Business customers may reach Royal Apparel toll-free at 866-769-2517.