Viscose Hemp Clothing Suppliers, Royal Apparel Manufactures Organic Cotton and Organic Hemp Clothes
Hemp Clothing Suppliers: Set Up a Wholesale Account with Royal Apparel
Viscose Hemp Clothing Suppliers, Royal Apparel Manufacturers and Supplies Viscose Hemp Shirts and Custom Viscose Hemp Clothing
Viscose hemp clothing suppliers and wholesalers, if your business is looking for organic viscose hemp clothing manufacturers to supply your inventory stock, or if you are looking for organic viscose hemp clothing suppliers or manufacturers of high-quality, ad specialty quality garments for private labels or to produce completely custom-made clothes, then be sure to review the products, styles, fashions, organic fabrics and fabric blends available from American manufacturer Royal Apparel. Located in Hauppauge, New York, Royal Apparel runs a union shop; we produce union-made clothing, and high-quality garments. We can guarantee viscose hemp clothing suppliers, private labels, clothing chains, individual clothing retailers, clothes distributors, and even retail customers that our production of wholesale eco-friendly brands, wholesale blank clothing, finished viscose hemp clothing, and other garments are produced under "sweatshop free" conditions & we are a "sweatshop free" clothing manufacturer, and also, Royal Apparel is an ASI member.
Viscose Hemp Clothing Suppliers: Review Our Fashionable Organic Viscose Hemp and Organic Cotton Retail T-Shirt (Blanks Available)
Royal Apparel has offered an organic viscose hemp and 100% organic cotton blend t-shirt as a standard inventory product in our 2015 product line which will continue to expand. We now offer organic monochrome organic viscose hemp t-shirts in our inventory. These shirts are already available as finished goods. Organic viscose hemp clothing suppliers, wholesalers and other clothing businesses may order this item at wholesale, request blanks, or request custom production runs of modified shirt designs, or for other types of clothing. As the manufacturer, Royal Apparel manages every step of the production process. This allows us to ensure that our viscose hemp clothing suppliers, private label, business, or even individual retail customers will receive high-quality, organic viscose hemp apparel that is manufactured in the U.S.A. And, if your business wants to finish these goods with embroidery, silkscreen printing, or a related customization process, then we can guarantee that your hemp clothing meets ASI organic apparel standards.
Royal Apparel's current, standard inventory stock, 64051 Unisex Viscose Hemp ORGANIC Cotton Tee is now our standard inventory item for wholesale viscose hemp blank t-shirts with several standardized monochrome colors available. This particular organic viscose hemp and organic cotton t-shirt is a popular inventory stock item. Please review the product page for more information about this particular t-shirt as well as product specific details on available sizes and colors.
Viscose hemp clothing suppliers, private labels, clothing brands and distributors, clothing chains, and clothing stores, be sure that you contact Royal Apparel with any questions that you have about our inventory stock, fashionable organic viscose hemp and cotton t-shirt (monotone colors and blanks), or to discuss your requirements for custom-made viscose hemp t-shirts or other types of organic viscose hemp clothing styles. Business customers may request full-service custom manufacturing and finishing services for organic viscose hemp clothing for your supply and inventory stocking.
Viscose Hemp Clothing Suppliers: Set up a Wholesale Account for the Best Prices or to Order Custom-Made and Custom-Finished Garments Using Our Organic Fabrics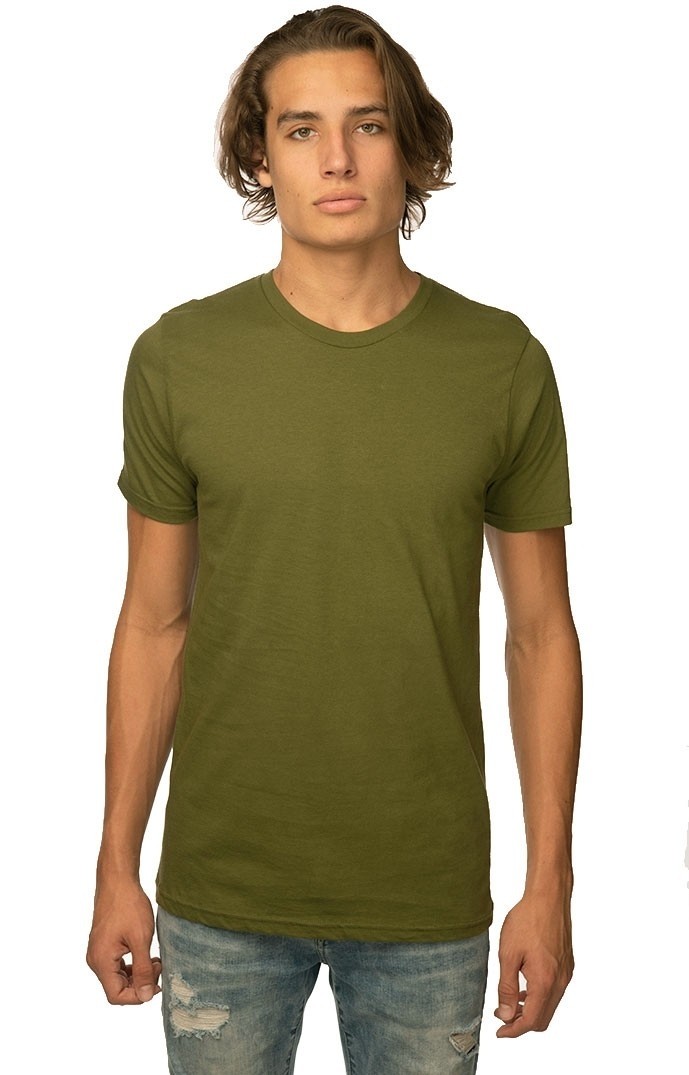 Once your business sets up a wholesale account for wholesale pricing and freight shipping rates at Royal Apparel's online store, your business may buy any inventory stock that is currently in production for the year. Additionally, wholesale business account holders may request custom clothing production runs using our organic viscose hemp or other fabrics and blends with organic fabrics and be sure to review our extensive assortment of sustainable fashions made right here in the U.S.A. - just check out the Royal Apparel online store for your latest fashion options. Viscose hemp clothing suppliers can order completely custom production runs, request custom finishing services or private labeling, and viscose hemp clothing suppliers or other clothing business can send us tech-packs for sample garment production and approved production runs. We offer quick turnaround times on sample garment production as well as full production runs including viscose hemp shirts, blanks or other clothing styles for wholesale distribution, or for sale direct to your business, brand or private labels.
Additionally, business customers may request custom production runs of various types of clothing styles and fashions for toddlers, infants, youth, teens, adult women's sizes, or adult men's sizes. We can produce custom shirts, tees or t-shirts, V-necks, polo shirts, long sleeves, short sleeves, fleece wear, sweatshirts, hoodies, sweatpants, and a wide range of other clothing styles. For our viscose hemp clothing suppliers and wholesalers, or retailers, we encourage you to view specific product details of garments that you are interest in purchasing, and to review information about Royal Apparel's fabrics, which of course includes organic cotton, organic viscose bamboo and organic cotton (learn more about our viscose bamboo clothes), organic viscose hemp and organic cotton blends, as well as wide variety of blends utilizing fleece, Triblends (Rayon, Polyester and cotton), fine Jersey-style fabric, and other options combined with organic cotton. Also, we offer our viscose hemp clothing suppliers and other wholesale account holders the option of choosing other eco-friendly clothing including clothes made using RPET (our recycled Polyester and recycled plastic fiber fabric), or if you need t-shirts for sublimation dyeing/sublimation printing, we offer a classic t-shirt blank made of 100% Polyester for the best reproduction of vibrant colors and graphics associated with sublimation dyeing.
Business customers can learn more about our wholesale apparel account, wholesale pricing rates, free freight shipping on minimum business orders, and other services related to our business-to-business manufacturing and garment finishing services. Viscose hemp clothing suppliers, private labels, retail clothing chains, individual business, or other clothing sellers, be sure to take a couple of minutes to go ahead and set up your wholesale account with Royal Apparel for direct sales and B2B services for your business.
Viscose Hemp Clothing Suppliers: Learn More About Royal Apparel's Environmentally-Friendly Organic Fabrics, Sizing and Custom Manufacturing
Royal Apparel has made considerable effort over the last few years to add completely organic fabrics and fabric blends, as well as, blends of our traditional fabrics with organic cotton. These items are available direct to retail customers, or to any of our business customers. We stock a wide inventory of organic and environmentally-friendly clothing made from a variety of sustainable fabrics. Viscose hemp clothing suppliers, wholesalers and retail businesses may order organic viscose hemp clothing, or any of our inventory apparel direct from Royal Apparel online. We recommend that you review individual product details for any clothes that you wish to purchase for your business, or for custom manufacturing using sustainable fabrics.
We encourage business to learn more about our fabrics, blends, sizing, inventory stock and custom manufacturing by:
For viscose hemp clothing suppliers or other clothing companies with an ecologically-conscious clientele, Royal Apparel can supply your company with a wide range of sustainable fashionable styles, cuts, sizes, colors and a variety of fine fabric options.
Viscose Hemp Clothing Suppliers, Wholesalers and Retailers-Buy Direct from Royal Apparel
Contact Royal Apparel direct if you need assistance purchasing clothing through our online store or if you have any questions about organic fabrics, clothing styles and cuts, or if you are interested in utilizing our custom manufacturing services to fulfill your supply requirements as viscose hemp clothing suppliers for sale to your business or retail customers. You may call Royal Apparel at 866-769-2517.