Viscose Hemp Shirts at Wholesale Prices from Clothing Manufacturer Royal Apparel
Set Up a Wholesale Account to Purchase Hemp Shirts at Wholesale
Does Your Business Need a Supplier for Organic and Viscose Hemp Shirts at Wholesale?
If your business is looking for a manufacturer and supplier of American-made clothing including organic options and organic viscose hemp shirts at wholesale pricing rates, then be sure to take a look at the current product line available from Royal Apparel. We are a U.S. clothing manufacturer located in New York running a union shop that also adheres to industry best practices—we are a "sweatshop free" clothing manufacturer offering a wide range of clothing styles, cuts, sizes and also custom manufacturing services for businesses. We produce a wide range of garments including eco-friendly clothing for private labels and we sell at wholesale for eco-friendly brands and clothing lines.
If you are interested in 100% organic cotton clothing, viscose hemp shirts at wholesale including viscose hemp blank t-shirts, organic t-shirt supply, organic viscose bamboo clothing, wholesale blank apparel, or finished goods in any of our fabrics, then contact your organic clothing manufacturers at Royal Apparel. To contact Royal Apparel, call us at 866-769-2517.
Viscose Hemp Shirts Available at Wholesale Rates for Businesses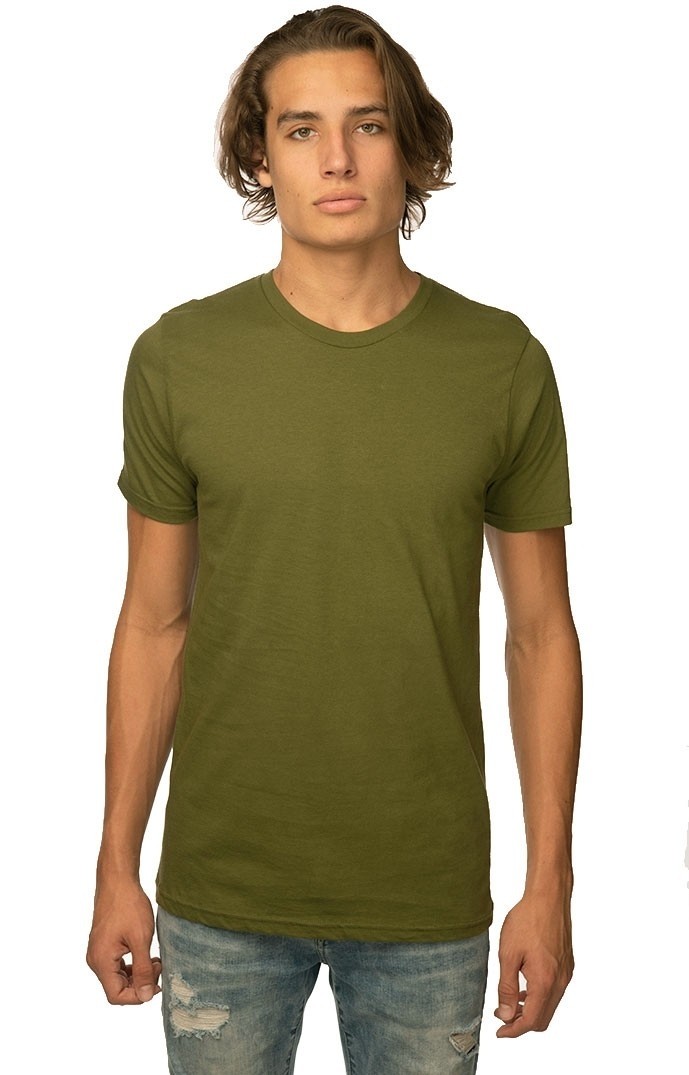 Royal Apparel is a now an organic viscose hemp clothing manufacturer and custom viscose hemp clothing wholesaler. We can offer your business, clothing company or private label direct sale of or standard inventory viscose hemp t-shirt or we can produce custom garments for your company using or blend or organic cotton and organic viscose hemp—or any of our other fabric options. Or current product line offers a fashionable, comfortable viscose hemp t-shirt that is available in several colors.
Royal Apparel's inventory stock viscose hemp t-shirt, the 64051 Unisex Viscose Hemp ORGANIC Cotton Tee, is our standard for blank viscose hemp t-shirts. This shirt style is available fin unisex cut for adults and it is made using a durable organic fabric blend comprised of organic viscose hemp and 100% organic cotton. This Unisex Viscose Hemp Organic Cotton Tee is also made and assembled in the U.S.A. This eco-friendly, sustainable fabric option is ideal for clothing companies as well as individual shoppers who are interested in environmentally-sustainable selections.
This shirt is a classic Jersey-style shirt using or viscose hemp fabric and is a blend of two organic fabrics, specifically, 60% organic viscose hemp combined with 40% organic cotton at 4.3 ounces per square yard. Our customers find that this style is silky soft and comfortable with a great drape and cut that fits women and men quite nicely. The design of the shirt offers a well-made set-on rib collar, tape shoulder-to-shoulder style, with a double-needle sleeve hem and bottom hem, with side-seamed assembly.
Currently, Royal Apparel offers several fashionable colors for this organic viscose hemp and cotton t-shirt. Our colors are: Caviar, Herb, Patriot Blue, Sand, Snowflake, and Storm. These popular an attractive colors are Royal Apparel's specific colors for this year's inventory line—you can review the colors on the product page: 64051 Unisex Viscose Hemp ORGANIC Cotton Tee.
Green Clothing Manufacturer Offers Viscose Hemp Shirts at Wholesale and Organic Fabrics for Custom Runs
If your company is in need of green clothing manufacturer offering a wide range of organic options, then be sure to review all of our current options—learn about Royal Apparel's fabric blends. Businesses may request custom manufacturing utilizing our current fabrics and various blends for your own fashions, styles and cuts. We currently utilize 100% certified organic cotton for our organic cotton clothing and also for our affordable sustainable fabrics that are blends. We offer blends of organic viscose bamboo and organic cotton, organic viscose hemp and organic cotton including or popular standard viscose hemp shirts at wholesale, and blends of organic cotton with most of our other traditional fabric options. For those companies and/or individual customers interested in other interesting fabric options, we offer a variety of clothing made with recycled Polyester and plastic fiber fabric called RPET—the fabric is actually more comfortable than it sounds!. RPET fabric options with organic cotton blends are available as well.
Additionally, Royal Apparel offers other fine fabrics including a fine Jersey-style fabric, the ever-popular fleece, various Triblend fabric options (Rayon, Polyester and cotton blends of varying percentages), a Raglan/Henley style that is particularly popular for our baseball style shirts, and we also offer 100% Polyester blanks that are made primarily to be used for sublimation dyeing, although the blanks are nice apparel with custom finishing as well. Royal Apparel also offers combination blends of most of our fabrics combined with cotton in various blends and ratios.
Contact Royal Apparel for American-Made Viscose Hemp Shirts at Wholesale or Custom-Made Organic Clothing
Contact Royal Apparel for direct purchase of inventory clothing or for our viscose hemp shirts at wholesale. We also are a full-service manufacturer and we produce custom garments for business large and small. We invite you to learn more about our custom clothing manufacturing and custom finishing services.
Business customers may purchase viscose hemp shirts at wholesale, any of other our inventory at wholesale, or request clothing manufacturing and finishing services. We do offer quick turnarounds on custom production runs of clothing as well as sustainable fashion products. Business customers may reach Royal Apparel nationwide at 866-769-2517.