Royal Apparel Manufactures Seamless Tshirt (No Sides) Styles
Set Up a Wholesale Account with Royal Apparel
ASI Member Produces Seamless Tshirts (No Sides) or Tubular Knit Shirts
ASI member, Royal Apparel of New York, is one of the few U.S. companies that can produce a wide range of sustainable fashions and offer full-service manufacturing services to business customers, private labels, individual clothes stores, clothes lines or even for national clothing retail chains. Many businesses purchase our finished goods direct from our inventory, but we are also organic clothing manufacturers and suppliers. We produce a wide selection of eco-friendly clothing using high-quality organic cotton, organic bamboo, organic hemp, a recycled fabric option (RPET), and wholesale eco-friendly brands. We stock environmentally sustainable fabric options for our inventory clothing as well as for custom manufacturing services for businesses.
We would like to let our retail and wholesale business clientele know that we produce ASI organic apparel and meet guidelines and standards including for custom clothes finishing services as well. Also, we only produce "sweatshop free" clothing at our production plant in New York. We also have union options and we are a "sweatshop free" clothing manufacturer that can meet fair trade wholesale clothing standards.
New Tubular Knit Tshirt (Tube Knit) Is Now a Standard Inventory Stock Item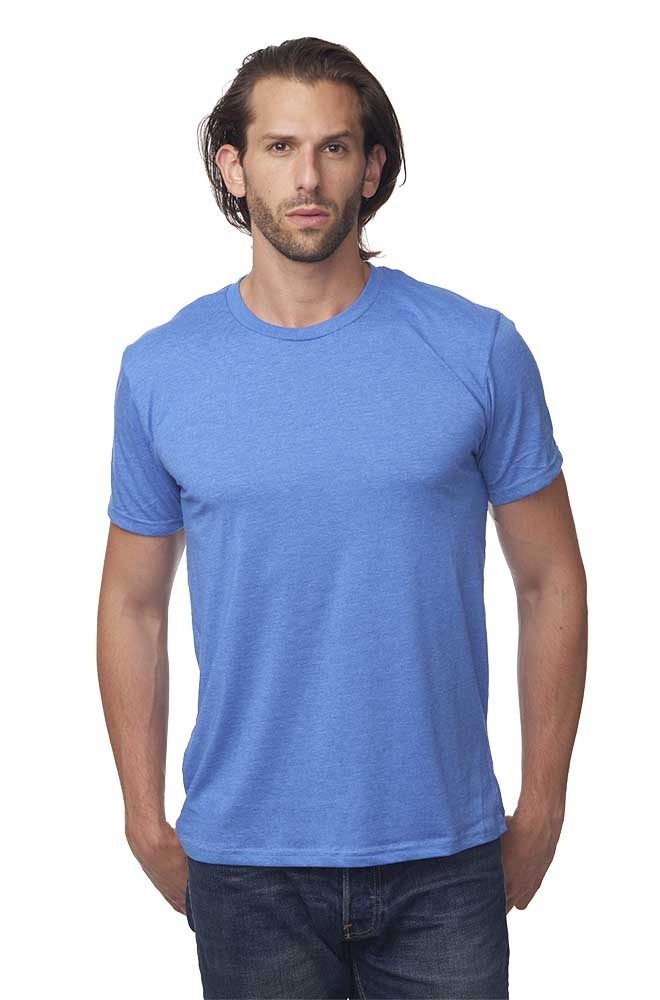 Royal Apparel's new seamless Tshirt (no sides), or product number 5051T Unisex Tubular S/S Fine Jersey Tee, offers retail and wholesale customers Tubular Knit Tshirt (Tube Knit) designs and is a variant of the standard 5051 Tee. Businesses may purchase these as finished goods, for custom-finishing services, printing, sewing or other options. This affordable shirt is available for purchase direct from our online store for retail customers and for businesses with a wholesale account (sign up for wholesale pricing at Royal Apparel).
This affordable, comfortable, seamless Tshirt features:
Tubular Knit Tshirt (Tube Knit) available as an inventory stock item or request custom manufacturing or finishing service per your company's clothes style, cut, drape, and other specifications
Unisex adult garment (look at sizing below for sizes that may fit teenagers)
Seamless Tshirt of course has no sides and is the seamless tubular body-sized version of the standard 5051 Tee
Union-made shirts produced at our facilities in New York
Manufactured utilizing our super soft, fine Jersey style fabric (30/1 combed, ring spun, 100% cotton at 4.4 ounces per sq. yd.)
Single color blanks (seamless Tshirt with no sides) are available for wholesale blank clothing pricing and inventory items may be ordered direct from the Royal Apparel
Very affordable retail and wholesale pricing; the same price point, but with no side seam
This seamless Tshirt with no sides or seams offers a base for really good screen printing results without a side seam, this seamless Tshirt (no sides) offers a great base fabric and style for screen printing or other custom-finishing services for private labels and business clients
Ideal shirt for blanks for private label or private brand custom finishing
Tear away label for customer comfort or for private labels
Set on rib collar style
Tape shoulder to shoulder style
Double needle sleeve hem and bottom hem style
This is a great seamless Tshirt (no sides) design available in several attractive colors
Current color options include: Asphalt, Black, Navy, Olive, Red, Royal (Blue), and White
Current sizing options: Small, Medium, Large, Extra Large, 2X, and 3X
Learn about Royal Apparel's custom clothing manufacturing and finishing services for alterations to this or other inventory stock or as a baseline garment and style for custom production runs or custom finishing as requested
Eco-Fashions and New Styles from Royal Apparel
Besides adding this new seamless Tshirt (no sides), Royal Apparel continuously adds new inventory stock clothing in a variety of styles, cuts, drape and fashions, many of which are eco-fashions. Royal Apparel produces a wide selection of environmentally-friendly fabrics. Many of our standard fabrics are available with 100% organic cotton or other fabrics to produce a range of environmentally-friendly fabric blends. We continue to add eco-friendly options for our own sustainable clothing brands and for our business clientele as well.
Royal Apparel manufactures a wide range clothing in general and a wide selection of wholesale eco-friendly brands available direct for wholesale customers, private labels, clothing lines, clothing stores and the retail market. Businesses may purchase direct from the Royal Apparel online store inventory, or you may request custom clothes manufacturing and finishing services. We do offer quick turnaround times on sample garment production as well as running entire production lots.
We offer a wide selection of sustainable fabrics and blends of sustainable fabrics with a few traditional fabrics. We offer customers fine Jersey style fabric, 100% Polyester specifically for sublimation dyeing, Raglan/Henley baseball style fabrics, Triblend (cotton, Rayon and Polyester), a recycled fabric blend called RPET (made from recycled Polyester and plastic fiber material), and blends of these types of fabrics with our standard 100% certified organic cotton (e.g. organic cotton t-shirts, blanks for private label, organic clothing for brands). Cotton is available on many of our clothes in our inventory at any given time. We also produce fabric blends using organic cotton including organic hemp t-shirts in bulk, bamboo organic clothing, other organic clothing brands, and organic cotton blended with standard fabrics.
Contact Royal Apparel for Seamless Tshirt (No Sides) and Other Clothes
We recommend that business customers and retail customers check out Royal Apparel's New Styles section as we have new styles, cuts, fashions and variants of current clothes and completely new designs. Royal Apparel adds shirts and other clothes to our online inventory throughout the entire year. This particular seamless Tshirt (no sides) is just one of our new designs for this year's inventory stock items.
Contact Royal Apparel for information about wholesale pricing for our seamless Tshirt (no sides) or the Tubular Knit Tshirt (tube Knit), as well as for inventory stock items in general. We can offer businesses or private labels quick production turnaround times for custom-manufactured clothes. You may call Royal Apparel toll-free at 866-769-2517.