American-Made Tubular Knit Apparel Is Available from Royal Apparel
Set Up a Wholesale Account with Royal Apparel for Tubular Knit Apparel and Inventory Stock!
U.S. Clothing Manufacturer Adds Tubular Knit T-shirt (Tube Knit) to Inventory Stock
U.S. clothes manufacturer, Royal Apparel, an ASI member producing ASI organic apparel now manufactures Tubular Knit Apparel, particularly our popular T-shirt. Business customers can take advantage of direct purchases from our inventory or your business can request custom manufacturing of Tubular Knit Apparel or clothing using any of our affordable sustainable clothing brand options. Royal Apparel has made a concerted effort to move production of our clothing to using organic, environmentally-friendly fabrics and blends with our traditional fabric. We are a full-service eco-friendly clothing manufacturer committed to producing "sweatshop free" clothing that also meets fair trade wholesale clothing standards.
Retail customers and businesses may call Royal Apparel direct at 866-769-2517 regarding any of our inventory stock or about custom manufacturing Tubular Knit Apparel to meet your business requirements.
New Tubular Knit Apparel: Review Our New, Standard Tubular Knit T-Shirt (Tube Knit)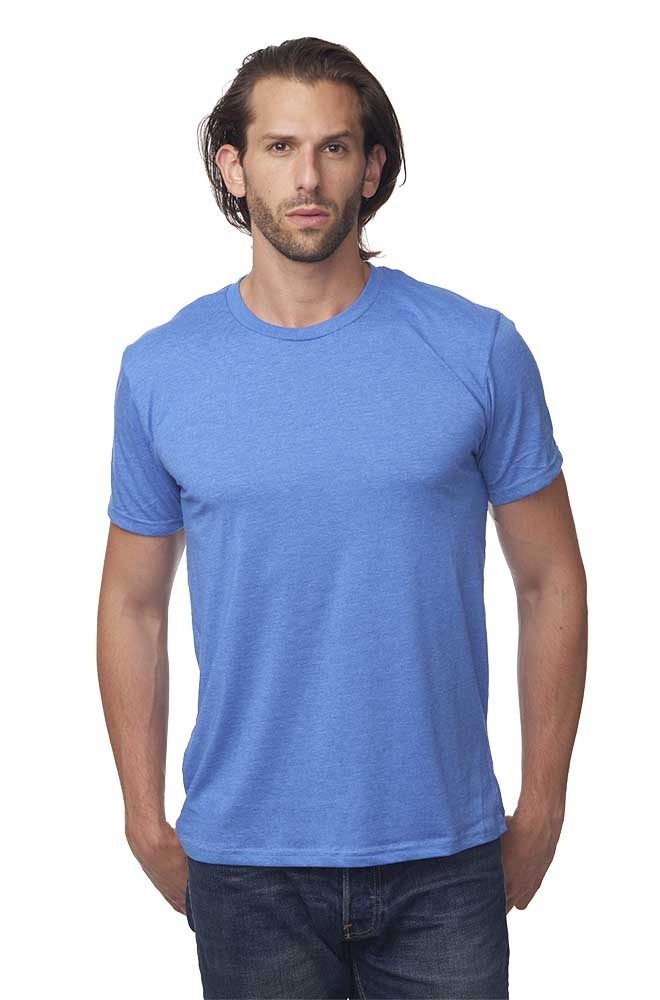 Royal Apparel's 5051T Unisex Tubular S/S Fine Jersey Tee is our new standard T-shirt and we will be adding more Tubular Knit Apparel to our inventory and product line. This garment is the Tubular Knit T-shirt (Tube Knit) and seamless version of the standard 5051 T-shirt. This shirt is available for direct purchase by retail or wholesale customers. This is an example of our affordable, comfortable, Tubular Knit Apparel. affordable, features:
Super soft, fine Jersey style fabric made of 30/1 combed, ring spun, 100% organic cotton at 4.4 ounces per square yard
Tubular body version of the standard 5051 Tee
Comfortable shirt with a great drape
Affordable price for Tubular Knit Apparel (T-shirt) and the same price point for the tee with no side seam
Unisex style and cut
No seam shirt allows great screen printing results
Set on rib collar design
Tape shoulder to shoulder
Double needle sleeve hem and bottom hem
Tear away label
Ideal for blanks for your company's custom finishing
Available colors: Asphalt, Black, Navy, Olive, Red, Royal (Blue), and White
Small, Medium, Large, Extra Large, 2X, and 3X sizing options
Tubular Knit Apparel made in the USA!
Learn About Royal Apparel's Sustainable Fabrics and Blends
Royal Apparel is uniquely situated to offer both American-made clothing including an extensive product line of organic clothing and eco-fashions made from a variety of fabrics and blends. We offer businesses custom manufacturing using fabrics including 100% organic cotton, a blend of organic cotton and organic hemp (hemp blank t shirts, etc.), organic cotton and organic bamboo, RPET (a recycled plastic fiber and Polyester fabric), and we also offer blends of standard fabrics including fleece, fine Jersey fabric, Polyester, Rayon, Spandex, Triblend, Henley/Raglan style (two-tone shirts), and our ecologically-friendly versions of our Triblend fabrics (a combination of organic cotton, Rayon and Polyester), and other options. We also manufacturer 100% Polyester shirts as blanks, which are ideal for sublimation dyeing.
We encourage individual shoppers and our business customers, Private Labels, clothing suppliers, clothing wholesalers, clothing chains, and individual companies, to learn more about Royal Apparel's fabrics and blends. You can review information below about our standad Tubular Knit Apparel T-shirt:
Royal Apparel can offer business-to-business services including wholesale blank clothing, attractive single colors for blanks, Tubular Knit Apparel and seamless (no side seam) tubular knit apparel for shirts or other garments. We offer business customers full-service manufacturing from start-to-finish. We also customize blanks and inventory products for companies with requests for additional sewing, embroidery, silkscreen printing, or other requests. You can take advantage of our tubular knit apparel fabric for you own completely customized clothes.
We encourage businesses to learn about Royal Apparel's custom clothing manufacturing and finishing services and this includes for Tubular Knit Apparel. We do add shirts, other clothes and soon, more tubular knit apparel to our online inventory throughout the year.
Contact Royal Apparel for Your Wholesale Supply of Tubular Knit Apparel and Tube Knit T-Shirts
Royal Apparel is a full-service, start-to-finish, custom clothes manufacturer and direct supplier to clothing businesses of all sizes. We do offer quick turnaround times on sample garment production as well as quick turnaround times on production runs. We can assist your company with designing products and provide your business with custom manufacturing services, or your business may purchase any of our inventory stock items as wholesale pricing rates after you sign up for a wholesale account with Royal Apparel.
Retail customers and business customers interested in purchasing our standard Tubular Knit T-Shirt (tube knit) may contact Royal Apparel with any questions regarding Tubular Knit Apparel or about any of products, fabric and fabric blend options, or regarding other questions. Retail customers and business customers may purchase inventory stock items direct at the Royal Apparel online store. You can also call Royal Apparel direct at 866-769-2517.