Royal Apparel Manufactures Unisex Cotton T Shirt Styles (Wholesale or Retail)
Sign Up for a Wholesale Account with Royal Apparel
U.S. Apparel Manufacturer Produces Sustainable, Organic and Recycled Fabric Clothing Including Unisex Cotton T Shirt Styles
Royal Apparel manufactures in the U.S. We are an apparel manufacture that is committed to producing high-quality, affordable organic and recycled fiber fabric clothes in classic styles, like our various Unisex cotton T shirt styles, and new designs with great drapes and attractive colors. We have dramatically increased our eco fashion clothes and fabric options over the last few years. We are a clothing manufacturer for wholesale markets and for direct retails sales. Royal Apparel is an ASI member manufacturing a wide range of produce ASI organic apparel and organic clothing including plain 100% organic T shirts, Unisex cotton T shirts, as well as clothes using blends of our 100% organic cotton and other organic fabrics or our recycled fabrics.
With our ongoing commitment to producing high-quality, sustainable fashion clothing, and to manufacturing "sweatshop free" clothing and/or fair trade wholesale clothing, Royal Apparel is one of the few remaining domestic, U.S. manufacturers that you can rely of for quality, great innovative fabrics and blends, style, diversity in cuts and fabric options, innovative and unique colors and fabric blends. We produce finished apparel for sale to business customers and for retail sale.
U.S. Union Shop and Manufacturer for Unisex Cotton T Shirts or Other Apparel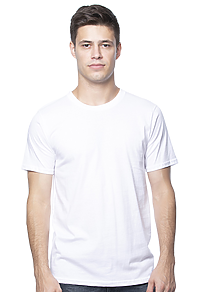 Royal Apparel continues to run a union shop in Hauppauge, New York, and we are committed to continuing to control the entire manufacturing process to meet high U.S. production standards. Feel free to search through our USA Made section of the website or take a look at our featured Union Made category which includes a classic, all-American standard: our 65051UNN Unisex UNION MADE Recycled Jersey Tee, which is a great example of a classic tee that also is made from a combination of recycled fabrics as the base material comprised of our recycled Jersey style blend of 65% recycled cotton (organic cotton) and 35% recycled Polyester (made from recycled plastic bottles) at 5.0 oz. per sq. yd.; and, this style is available in several attractive colors.
Really, examples of our Unisex cotton T shirts and blends with organic cotton, as well as other apparel styles, abound throughout the Royal Apparel online store. Business customers can look through our Home/Wholesale section for current 2016 product line catalog (or check out the online Look Book) including ones utilizing 100% organic cotton in combination with many of our other innovative fabrics or fabric blends.
Customers: Search for Unisex Cotton T Shirts or Order Sample Packs!
Retail or business customers can search for Unisex cotton T shirt or search for Unisex cotton tees in order to see the wide range of available styles as well as sample packs that are a great option for business customers to get a better idea of the quality, cuts, styles, colors, comfortability, drape and other aspects of our wide range of Unisex cotton T shirts and related tees or styles.
Some of our sample packs that include Unisex cotton T shirts include:
We also recommend that you just go ahead and peruse our main product categories where you can find many different styles of Unisex garments including classic, Unisex cotton T shirt styles:
A few more specific examples of our Unisex cotton T shirt styles or blends with cotton include: a Printed 100% Organic Cotton T-Shirt, a Printed Unisex Organic RPET Blend T-Shirt, a Unisex Organic RPET Blend T-Shirt, an Organic Short Sleeve V-Neck, an Organic Toddler Short Sleeve Crew T-Shirt, and many other options.
Fabrics and Fabric Blends Available from Royal Apparel
We recommend that business customers interested in direct sales from our inventory or for custom manufacturing jobs review product information online, specifically any clothing that you are interested since each page has considerable product details including information our fabrics and fabric blends.
Royal Apparel produces organic cotton T shirts including Unisex cotton T shirt styles. We manufacturing clothing using 100% organic cotton, organic bamboo, organic hemp for hemp blank t shirts, fleece, fine Jersey, RPET (recycled Polyester and plastic fibers), Raglan/Henley styles, Triblend (Rayon, Polyester and cotton), and other options. We have now increased our sustainable fabric options by combining standard fabrics with organic cotton or recycled fabric materials as well. We also have 100% Polyester which is ideal for sublimation dyeing.
Royal Apparel Manufacturers Clothes for Private Labels and Individual Business Customers
Royal Apparel is a major producer of Private Label garments for businesses all across the country. We are a full-service manufacturer from start-to-finish with quick turnaround production times on sample garments and production runs. You can learn more about our services including custom apparel manufacturing and/or finishing services before requesting manufacturing services. Also, most of our apparel is available as blanks, in monochrome colors, or available in Henley/Raglan two-color, or Triblend three-color options as well. We produce a wide range of apparel blanks, including Unisex cotton T shirt styles for retailers, suppliers and distributors, for individual companies or stores, or for Private Labels or individual clothing lines. Along with our full-service manufacturing options, you can also choose to have tear away labels or request re-labeling services for your own product line(s).
And, you can also look for Royal Apparel's Sales and Specials including discounted or discontinued products for this year or wholesale account holders, or our business customers, can also pre-book orders for upcoming inventory stock garments as we add them to the new product year or throughout the year.
Contact Royal Apparel
You may contact Royal Apparel about any inventory stock or for assistance purchasing in clothing in our inventory including various cuts and styles of Unisex cotton T shirts. Business customers and individual retail customers may order direct at Royal Apparel online. You can learn more about Royal Apparel including business-to-business services and full-service manufacturing and/or finishing services.
Businesses may call Royal Apparel nationwide at 866-769-2517 for wholesale orders or to discuss custom manufacturing or production runs, or to purchase bulk blanks or finished apparel.