American T-Shirt Alternatives from a Union Production Shop
Sign Up for a Wholesale Account with Royal Apparel
Royal Apparel Is a U.S. Manufacturer: American-Made T-Shirts Are Alternatives to Cheap Imports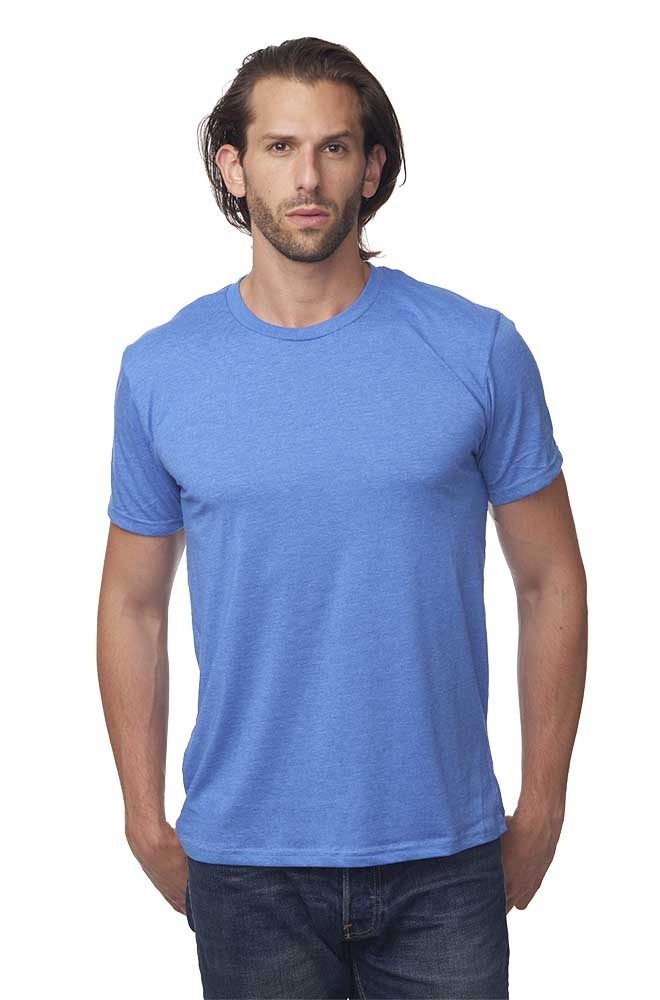 If your company needs an alternative to poorly made, cheap import clothing, then Royal Apparel of Hauppauge, New York, is your American t-shirt supplier alternative! We can offer your business and your customers more than just a manufacturing alternative, since we can offer your business union-made apparel and shirts, domestically-made American t-shirt alternatives, and a variety of environmentally-friendly fabrics for your ecologically-conscious consumers and clothing lines. Our U.S.A. made t-shirt supply is a great alternative to cheap, poorly made shirts that do not last very long, and in addition to offering you union-made apparel, we guarantee that all of our t-shirts and other clothing are manufactured under "sweatshop free" conditions, always.
We are full-service manufacturer with a wide range of apparel styles including retail and wholesale American-made tees (and blanks for dying or silkscreen printing), and other types of garments to fit most sizing for women, men, toddlers, infants and for youth and teens. Some of our other popular styles of shirts and clothing include basic shirts, short-sleeves, V-necks, polo shirts, long-sleeves, hoodies, pullovers, sweatshirts, sweatpants, Raglan baseball style shirts at wholesale (or retail), and many other styles of fashionable apparel. Be sure to visit the Royal Apparel online store to review our finished apparel available for retail and wholesale.
Companies large and small, including wholesalers, distributors, retail chains, retail-branded clothing line suppliers, private labels, or even individual independent retail stores, may call Royal Apparel toll-free, nationwide, at 866-769-2517.
Buy Bulk or Custom-Manufactured, American T-Shirt Alternatives for Your Clothing Inventory
Royal Apparel is an ASI member, and we adhere to industry ad specialty manufacturing, custom production and general finishing standards. Your business may utilize our resources for custom manufacturing or finishing services to meet your specific production requirements. We offer businesses domestic, American manufacturing in a union shop. We finish blanks according to our clients' design requirements for silkscreen printing, embroidering additional sewing services, sublimation dyeing or other requirements. You may buy bulk, blank t-shirts for custom finishing, or request custom manufacturing including rapid, product sample garment production—we do need your tech-packs—quick general manufacturing and finishing. Of course, our wholesale business customers are always welcome to buy from our retail inventory stock. We do offer a wide range of styles of attractive shirts and other clothing. When you buy blanks, you always have options with Royal Apparel including commercial-grade silkscreen printing, sublimation dyeing, embroidery services, or additional sewing (e.g. for patches, branding or logoing).
American T-Shirt Alternatives: Fine Fabrics and Environmentally-Friendly Fabrics
Royal Apparel uses a range of fine fabrics in our clothing. We also offer our business customers, and individual retail customers, fine jersey style fabric, fleece, and double and triple fabric blends. A few of our great fabrics for your American t-shirt alternatives, or other apparel alternatives, include environmentally-friendly fabrics and blends of these fabrics. We utilize 100% organic cotton, organic bamboo, a very innovative blend called RPET, which offers a comfortable fabric made from recycled polyester and plastic fibers! We also offer blends of RPET, organic cotton and organic bamboo as well.
We encourage our business clients to review some additional information about your American clothing and t-shirt alternative options and fabrics including:
At Royal Apparel, we always strive to offer our business clients high-quality garments, professional finishing services, and an American t-shirt alternative to poorly made imports. We also offer our wholesale clients custom apparel manufacturing and finishing options including: ad specialty quality production standards, blanks for finishing, embroidery services, private labeling options, re-labeling services, additional sewing services as needed, standardized sizing (custom sizing available on custom production runs), tear-away labels, and additional services as requested.
Contact Royal Apparel for American T-Shirt Alternatives and Quality Clothing
Businesses may contact Royal Apparel direct with any questions about our current inventory stock, wholesale pricing rates, bulk order options, and, of course, about our custom production runs and capabilities, custom manufacturing and/or custom finishing services, or with your general questions about our fabrics, available clothing styles, or about our start-to-finish, full-service, American clothing production and finishing services.
Business customers, wholesalers, distributors, or retailers may call Royal Apparel at 866-769-2517.