Royal Apparel Is a Clothing Manufacturer and Shirt Supplier to Business Customers
Set Up a Wholesale Account to Order from Royal Apparel, Shirt Supplier
American Clothing Manufacturer and Shirt Supplier
If your company, clothing chain, private label or retail is in need or a shirt supplier, then be sure to take a look at the online inventory stock available to business customers at wholesale pricing rates from U.S. clothing manufacturer Royal Apparel. Royal Apparel offers inventory items to sale to business and we are also a custom clothing manufacturer and custom garment finisher as well. Businesses receive quick turnaround times on sample garment production as well as on custom production runs of approved shirt or other clothing styles, cuts, sizes and fashions.
We would like to let you know that Royal Apparel is a union ship located in Hauppauge, New York. We can ensure that company will receive high-quality shirts, blanks, t-shirts, and other styles of clothing that are manufactured in the U.S.A. Royal Apparel is also an ASI member committed to manufacturing and selling high-quality garments. We offer USA-made apparel produced by a "sweatshop free" clothing manufacturer committed to producing fair trade wholesale clothing production.
We offer our wholesale business customer large a small, full-service manufacturing services, private labeling, custom-finishing, and a wide range of eco-friendly clothing options and wholesale eco-friendly clothing brands. We also produce a wide range of wholesale blank apparel and finished goods. If your company is in need of a custom manufacturer for your private label custom apparel, or you are just interested in wholesale pricing of our finished products, take the time to learn more about our current product line and inventory stock as well as our range of innovative fabrics and blends, and of course sizing and other pertinent details.
Businesses may discuss purchasing as well as production options direct with Royal Apparel at 866-769-2517. Call us if you have specific product questions or service inquiries, or you are interested in having us be your apparel and shirt supplier.
Organic Fabrics, Blends and Standard Fabrics from Your Shirt Supplier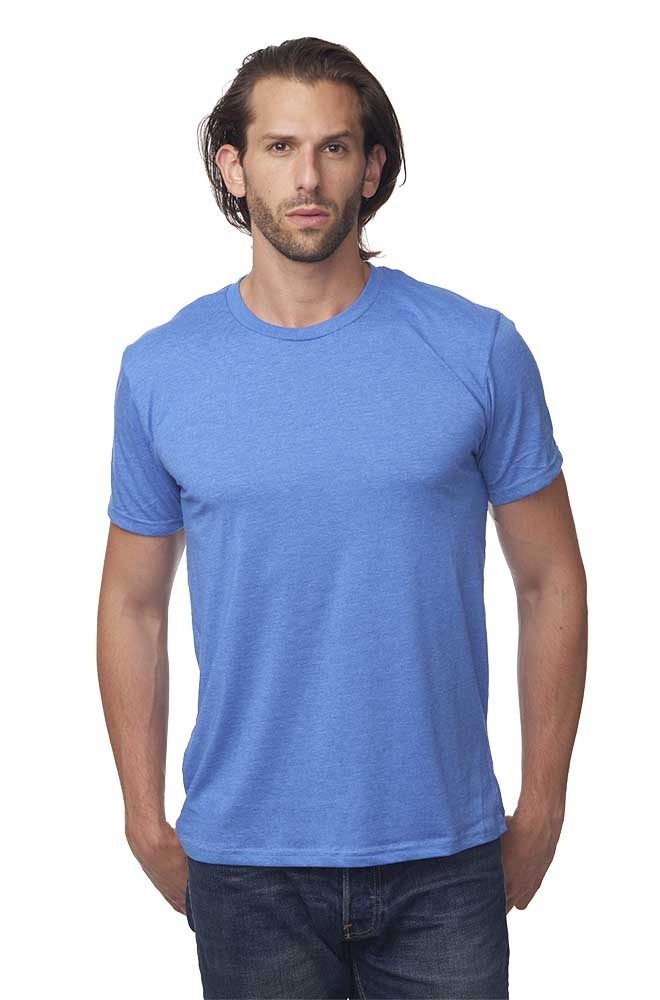 Royal Apparel offers a wide range of organic fabrics, blends with organic cotton, cotton, hemp, bamboo, and standard and popular fabrics (fleeced, fine Jersey-style, Triblend, Raglan/Henley styles and other options) including ecologically-friendly blend versions of these fabrics. We also even offer a recycled fabric option or RPET. We offer a wide range of styles clothes, shirts, blanks and other garment options made with affordable sustainable fabrics. You can buy bulk T-shirts, or order custom garments that meet your specific cuts, sizing, styles and finishing options.
Our range of fabrics include the following options:
Business-to-Business Manufacturing and Finishing Services from Your Shirt Supplier, Royal Apparel
If you represent a private clothing label, a single retailer, a clothing distributor or supplier, a retail chain or other business that is looking for a high-quality clothing and a shirt supplier or manufacturer, then be sure to take the time to review Royal Apparel's inventory and also to learn about our various business-to-business services, custom clothing manufacturing, and apparel finishing services.
Some of Royal Apparel's B2B manufacturing and finishing services include:
Ad specialty quality garment manufacturing and finishing meeting ASI standards
Extensive inventory of blanks for silkscreen printing, sublimation dyeing or custom finishing
A shirt supplier with quality fabrics including environmentally sustainable options
Custom-manufacturing from start to finish
Embroidery
Quick turnaround times on sample garment production and production runs
Private labeling
Re-branding/re-labeling services
Additional sewing services
Silkscreen printing
Tear away labels
Wholesale pricing rates
Additional services
Contact Shirt Supplier Royal Apparel for American-Made Clothing
Contact Royal Apparel to set up your business wholesale account to purchase in bulk from your new shirt supplier, or for custom manufacturing services. Your business may purchase any of our sustainable fashion products or other popular apparel. Business customers may reach Royal Apparel toll-free at 866-769-2517.